SATURDAY NIGHT FEVER TOUR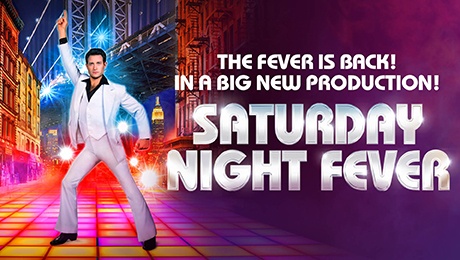 Bill Kenwright, by special arrangement with the Robert Stigwood organisation is presenting a new tour of the hit musical  SATURDAY NIGHT FEVER. Based on the Paramount/RSO Film and the story by Nick Cohn. The production is produced and directed by Bill Kenwright, with choreography by Bill Deamer, design by Gary McCann, lighting by Nick Richings, and sound by Dan Samson.The stage adaptation is by Robert Stigwood in collaboration with Bill Oakes
Richard Winsor (Edward Scissorhands) will lead the cast in the role of Tony Manero, joined by Olivia Fines as his dancing partner Stephanie. Jake Byrom, Oliver Thomson and James Hudson will be playing and singing the Bee Gees' soundtrack.
The cast is completed by Kevin O'Dwyer (Bobby C), James Brice (Gus), Paul French (Double J), Michael Cortez (Joey), Jasmin Colangelo (Annette), Tosca Fischer (Connie), Lydia Bradd (Linda), Philip Aiden (Frank Senior), Marios Nicolaides (Frank Junior), Melody Jones (Flo Manero), Faizal Jaye (DJ Monty) and ensemble members Celeste Zollino , Ashley Luke Lloyd , Luca Rapisarda , James Wilkinson-Jones , Helen Gulston and James Cohen.
It is over 40 years since the classic 1977 film starring John Travolta was released in cinemas, and 20 years since the show's original London production.The date is 1976 in New York and Tony Manero (a young man from a tough Brooklyn neighbourhood with a dead-end job and an extraordinary ability to dance) has only one ambition in life - to become the disco king.
Every Saturday night he puts on his flares and hits the dance floor, wowing everyone with his phenomenal moves and routines. When he meets Stephanie, who also dreams of a world beyond Brooklyn, they decide to train together for a dance competition and their lives begin to change forever as Tony Manero as  recklessly dances his way to success and features classic Bee Gees numbers  including Stayin' Alive, How Deep Is Your Love, Night Fever, Tragedy and More Than a Woman as well as 70's favorites Boogie Shoes, Disco Inferno and many more.
The musical originally opened in the UK at the London Palladium in 1998 with Adam Garcia in the lead where it was nominated for three Tony Awards, before running on Broadway in 2000.
| | | |
| --- | --- | --- |
| LONDON Peacock Theatre | 4 February-26 March | |