THE SIMON AND GARFUNKEL STORY TOUR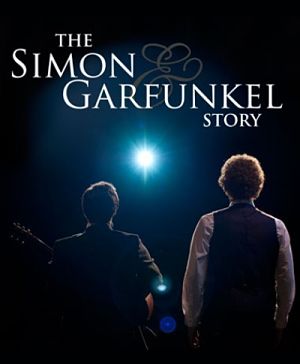 Direct from London's West End, award winning actor Dean Elliott (Buddy Holly in Buddy - The Musical) and a full cast of performers tell the compelling story of the greatest music duo of all time. Using both original photos and film footage, The Simon and Garfunkel Story also features a full live band performing all their hits.
'The Simon and Garfunkel Story is currently the biggest touring theatre show celebrating the lives and career of Folk/Rock sensation Simon and Garfunkel.
'The Simon and Garfunkel Story takes you back through the 1960s and tells the story of both Paul Simon and Art Garfunkel from their humble beginnings as Rock n Roll duo 'Tom and Jerry', right through their massive success, dramatic break-up and finishing with a stunning recreation of the 1981 Central Park reformation concert.
Adam Dickinson (Paul Simon) trained at Guildford School of Acting and The University of Central Lancashire. The Simon and Garfunkel Story marks Adam's professional debut.  Adam is also the composer of the musical Spilt Milk (The Other Palace).
Kingsley Juddy (Art Garfunkel), born in Gravesend, Kent, appeared, aged 10, as Donny Osmond, in the final series of ITV's Stars in their Eyes – Kids. He studied Music and Musical Theatre at the University of Chichester. Graduating in 2016, he recently completed two tours as a lead vocalist on cruise ships, travelling the world with P&O and Viking Cruises. They will be joined by Leon Camfield (bass),Will Tuckwell (electric guitar/keyboards) and Mat Swales (drums).
Director & Musical Superviser Dean Elliott, Set & Costume Designer Andrew Riley, Sound Designer Chris Crowther, Lighting Design Dominic Warwick, Video Design Perry Freeze & Rachel Allen (Z Frame), Casting Director Anne Vosser

Using a huge projection screen, the show features both original photos and film footage whilst a full live band perform all their hits including 'Mrs Robinson', 'Cecilia', 'Bridge Over Troubled Water', 'Homeward Bound', 'Sound of Silence' and many more
To help prevent the spread of coronavirus (COVID-19), we are sorry to confirm that all performances of this tour are cancelled up to Sunday 17th January 2021 when the situation will be reviewed.
Below are the latest RESCHEDULED TOUR DATES
| | | |
| --- | --- | --- |
| Liverpool Empire | 11th April | |
| York Grand Opera House | 29th April | |
| Torquay Princess | 11th May | |
| Wimbledon New | 18th May | |
| Aylesbury Waterside | 28th May | |
| Folkestone Leas Cliff Hall | 7th October | |
| Stoke Victoria Hall | 15th April 2022 | |