ROCK OF AGES TOUR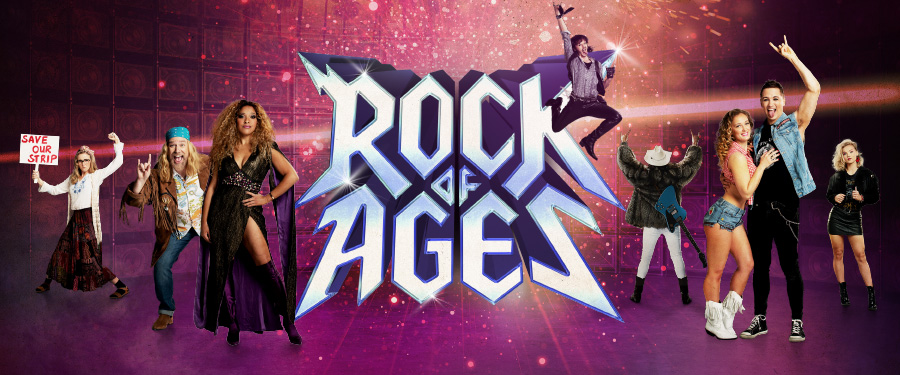 The last tour of Rock of Ages ended in November 2014 and is now on the road again.
Rock of Ages is the hit Broadway jukebox musical comedy which is set in 1987 on the Sunset Strip. The story centres on Drew who is a busboy and aspiring rocker who goes in search of his dreams to Los Angeles' most famous rock club, where he meets Sherrie who has just arrived from Kansas.
Rock of Ages features glam-rock music from Bon Jovi, Journey, Whitesnake, Poison and Pat Benatar with over 20 hits including Sister Christian,I Wanna Rock, We're Not Gonna Take It, Come on Feel the Noize, Hit Me With Your Best Shot, The Final Countdown , Don't Stop Believin, Dead or Alive, We Built This City, I Wanna Know What Love Is and The Final Countdown.
The new tour will be directed and choreographed by Nick Winston. Casting news so far is that Strictly Come Dancing's Kevin Clifton will play Stacee Jaxx' from 22 January until 6 April plus 11 June until 27 July 2019 and Antony Costa from Blue from 8 April until 1 June , Kevin Kennedy will play 'Dennis', Zoe Birkett Justice, Jodie Steele Sherrie, Luke Walsh 'Drew', Lucas Rush 'Lonny', Andrew Carthy 'Franz', Vas Constanti 'Hertz' and Rhiannon Chesterman 'Regina'
Below are the dates we have so far:
| | | |
| --- | --- | --- |
| Leicester Haymarket %% | 11-15 June | |
| Belfast Opera House %% | 18-22 June | |
| Canterbury Marlowe %% | 25-29 June | |
| Blackpool Winter Gardens %% | 2-6 July | |
| Swindon Wyvern %% | 8-13 July | |
| Southampton Mayflowe r%% | 16-20 July | |
| Sunderland Empire %% | 23-27 July | |
%% Kevin Clifton Playing Stacee Jaxx