MATILDA THE MUSICAL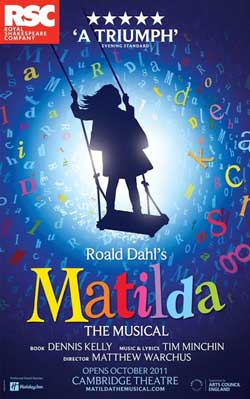 Roald Dahl's children's novel Matilda was first published in 1988. It has now been made into a musical which was produced by the Royal Shakespeare Company and played in Stratford last year to great critical acclaim. The show has a book by Dennis Kelly and music and lyrics by Tim Minchin
Matilda is the story of a very bright and rebellious little girl who has special powers. Her parents, Mr and Mrs Wormwood, have no time for her and treat her as a nuisance so she spends most of her time reading books from the library while they ignore her and watch the television.
Things are no better for her at school despite the care and support of the lovely Miss Honey who is her teacher.  It is here that Matilda has to contend with the terrifying and cruel headmistress Miss Trunchbull.
Matilda fights against the injustices at home and at school and eventually decides the grown-ups should be taught a lesson. In the process of doing this she discovers her supernatural powers
The cast for Matilda the Musical includes David Shannon (Miss Trunchbull), Gina Beck(Miss Honey), Marianne Benedict (Mrs Wormwood),Tom Edden (Mr Wormwood), Lisa Davina Phillip (Mrs Phelps), Joshua Wyatt (Michael Wormwood),Lucy Jane Adcock(Cook), with Keisha Amponsa Banson, Richard Astbury, David Birch, Maria Graciano, Karina Hind, Peter Houston, Katie Lee, Vicki Lee Taylor, Kris Manuel, Bryan Mottram, Tom Muggeridge, Emma Robotham-Hunt, Simon Shorten, Biancha Szynal, Callum Train and Robert Tregoning.
The girls playing Matilda are Lily-Mae Evans, Sara Munday and Savannah Read and Olivia Wells .The other young performers in the three teams who play the roles of Bruce, Lavender, Amanda and the rest of the pupils at Crunchem Hall are: Bill Bekele, Joe Butler-Smith, Omar Cain-Francis, Halle Cassell, Lucy Cheesman, Liberty Greig, Lauren Henson, Callum Hudson, Vaidile Jonikas, Mia McLoughlin, Miller Morris, Palmer Newson, Rocco Peacock, Lottie Refet, Finn Richards, Martin Soosaipillai, Will Tarpey and Alex Wenham.
Jessica Chalmers, Hari Coles, Archie Durrant, Sebastian Harry, Tori Louise Ryan, Tilda Marriage Massey and Kacy O'Sullivan play the roles of Bruce, Lavender, Amanda and the pupils at Crunchem Hall.
Cast change from 11th September: Gina Beck will stay on  for a second year as Miss Honey. She will be joined by Hayden Tee (Les Misérables, South Pacific) as Miss Trunchbull, with Rob Compton (Wonder.land) and Holly Dale Spencer (Annie) playing Mr and Mrs Wormwood respectively.
The full adult cast includes Alex Louize Bird, Gina Beck, Rob Compton, Holly Dale Spencer, Jaye Elster, Glen Facey, Alex Hammond, Peter Houston, Jessica Joslin, Bethany Kate, Sammy Kelly, Ben Kerr, Bryan Mottram, Malinda Parris, James Revell, Gemma Scholes, Simon Shorten, Hayden Tee, Callum Train and Robert Tregoning. Isobel Hubble and Francesca McKeown will join Sarah Munday and Olivia Wells as the titular role. The other young performers announced today join the London company in the three teams who play the roles of Bruce, Lavender, Amanda and the rest of the pupils at Crunchem Hall and are as follows: Lois Abercrombie, Tom Brown, Emilia Bosi, Toby Brandon, Quincy Miller-Cole, Lottie Cook, Imogen Darwen, Jimmy Fordham Reed, Clara Freeman Alves, Stella Haden, Jobe Hart, Noah Leggott, Archie Lewis, Henry Littell, Austen Phelan, Marley Quinlan-Gardner, Daisy Statham, Cherry Vaughn-White and Rochelle Wyatt.

Jacob Bland, Mia Byers, Sadie Victoria Lim, Asher Ezequiel, Darmani Eboji and Sam Winser will continue in the roles of Bruce, Lavender, Amanda and the pupils at Crunchem Hall.
You can purchase the cast recording of Matilda the Musical here.
Tony Award winner Matthew Warchus is the director and Peter Darling the choreographer. The creative team includes production designer Rob Howell lighting designer Hugh Vanstone, and sound designer Simon Baker, as well as Paul Kleve, who provides special effects and illusions.

You can buy tickets for Roald Dahl's Matilda which is booking until 10th February 2019.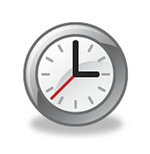 Tuesday at 7:00 pm. Wednesday-Saturday at 7:30 pm.(From 12 September all evening weekday performances will begin at 7:00pm (Tuesday-Friday) / Matinees on Wednesday at 2:30 pm and Sunday at 3:00 pm Running time 2 hours 30 minutes (including interval)
HOW TO GET TO MATILDA THE MUSICAL
Cambridge Theatre
Seven Dials, 32-34 Earlham Street,
London, WC2H 9HU
Click on map to enlarge image
Tube : Covent Garden (Piccadilly line)
Train: Charing Cross (Northern & Bakerloo Lines)

14, 19, 24, 29, 38, 176

MasterPark in Cambridge Circus. This theatre participates in the Theatreland Parking Scheme - find out more about the great discounts offered by clicking on the link.
DISABLED ACCESS TO MATILDA
| | |
| --- | --- |
| | InFRARED HEADSETS |
| | Guide dogs are permitted inside the auditorium |
| | 2 wheelchair spaces in stalls. Transfer seating available to any aisle seat. Wheelchair users must bring a non-wheelchair using companion. |
| | Available |