MARY POPPINS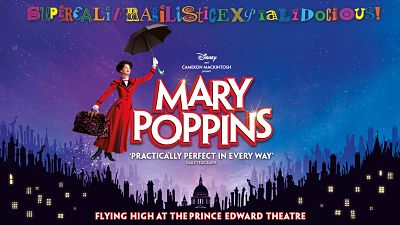 Cameron Mackintosh & Disney's  Mary Poppins is heading to the  West End's Prince Edward Theatre (where  it originally opened in 2004) in Autumn 2019.
Zizi Strallen (most recently starred in Baz Luhrmann's Strictly Ballroom is again playing  the iconic role of Mary Poppins which she played so well in the UK tour of the musical which ended in January 2017. Charlie Stemp has been cast as Bert following his award winning peformance as Arthur Kipps in Half A Sixpence in  Chichester and London and most recently wowing New York audiences playing opposite Bette Middler and Bernadette Peters in Hello Dolly! on Broadway as lovestruck Barnaby Tucker. They will be joined by Petula Clark as the Bird Woman who sings the iconic "Feed the Birds" and Joseph Millson as Mr Banks - father of Jane and Michael - who gets an unexpected attitude adjustment during Mary's stay in his home. More casting news is that Amy Griffiths  is  Mrs Winifred Banks (a loving and distracted homemaker who is busy trying to live up to her husband's desire to only associate with "the best people" and be the model wife and mother), Claire Moore as  Miss Andrew (George Banks' overbearing and scary nanny with her bottle of nasty-tasting brimstone and treacle to keep naughty children in line), Claire Machin as Mrs Brill (the overworked and harrassed housekeeper and cook for the Banks family) , Jack North as Robertson Ay  (the sleepy and grumbling houseboy to the Banks family) and  Barry James as (Admiral Boom/Bank Chairman).
The ensemble comprises Yves Adang, Lydia Bannister, Angeline Bell, Lydia Boulton, Matt Cox, Adam Davidson, Katie Deacon, Danielle Delys, Joshua Denyer, Stan Doughty, Glen Facey, Davide Fienauri, Ian Gareth-Jones, Mark Goldthorp, Joanna Gregory, Catherine Hannay, Jacqueline Hughes, Jason Kajdi, Sam Lathwood, Jordan Livesey, Ceili O'Connor, Malinda Parris, Alex Pinder, Ben Redfern, Rachel Spurrell, Lucie-Mae Sumner, Rhys West and Monique Young.
Casting for Jane and Michael Banks is still to be revealed.
The musical is based on a  series of children's books by P. L. Travers and the 1964 Disney film, Mary Poppins is the story of a mysterious nanny who magically appears at the Banks household in Cherry Tree Lane in Edwardian London to care for children Jane and Michael Banks. It's a household in disarray – until the nanny, Mary Poppins, arrives. With Mary in the Banks' lives and her no nonsense approach to making the right choices in life, nothing will be the same again.. Using a combination of magic and common sense, she must teach the family how to value each other again takin them on   a magical adventure whisking  them away to meet dancing chimney sweeps, shopkeepers and an array of colorful characters. with spectacular  sets and costumes, breathtaking dance numbers and songs including  the Academy Award-winning "Chim Chim Cher-ee," "A Spoonful of Sugar," "Feed the Birds," "You'll have a "Jolly Holiday", "Step in Time" and "Supercalifragilisticexpialidocious."
MARY POPPINS is one of the biggest stage musical successes to emerge from London or New York in recent years. Worldwide, the six productions of the show have grossed over $521 million, welcomed over 7 million guests and cumulatively run for over 12 years. The musical is the winner of 36 major theatre awards around the globe, including Tony, Olivier and Evening Standard awards.It received its worldwide premiere in London at the Prince Edward Theatre  in December 2004 where it enjoyed a successful three year run followed by an extensive  acclaimed UK tour.

Mary Poppins is a musical with music and lyrics by the Academy Award-winning Sherman Brothers with additional music and lyrics by George Stiles and Anthony Drewe and a book by Downton Abbey writer Julian Fellowes. The West End show will be directed by film, theatre, television and opera director Sir Richard Eyre and choreographed by New Adventures Sir Matthew Bourne (who both worked on the 2004 production) with the excellent Stephen Mear as co-choreographer with set and costume designs by Bob Crowley, lighting design by Natasha Katz, sound design by Paul Gatehouse and orchestrations by William David Brohn.
Buy tickets for Mary Poppins which is currently booking from 23rd October 2019 until 5th April 2020, with an opening night on 13th November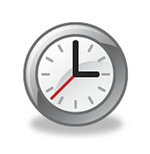 Reduced price family performances on Wednesdays at 7:00pm
Mondays, Thursdays, Fridays and Saturdays at 7.30pm with matinees on Thursdays, Saturdays and Sundays at 2.30pm.
HOW TO GET TO MARY POPPINS
Prince Edward Theatre
Old Compton Street,
London, W1D 4HS

Tubes :  Leicester Square (300m) Tottenham Court Road (400m)
Train:  Charing Cross (550m)

3, 6, 9, 12, 13, 14, 15, 19, 22, 23, 38, 88, 94, 139, 159, 453

Parking: Meters at Soho Square (200m). Master Park at China Town and Poland Street.This theatre participates in the Theatreland Parking Scheme - find out more about the great discounts offered by clicking on the link.
DISABLED ACCESS TO MARY POPPINS
| | |
| --- | --- |
| | Get headsets from the Access attendant for a £5 refundable deposit. |
| | Two guide dogs are permitted inside the auditorium |
| | Entrance to the auditorium through a double EXIT door opening outwards on Greek Street, then up a very short ramp to Box 1 where there are 2 spaces for wheelchair users and 2 companions. Transfer seating is available to row A. |
| | Adapted toilet on right-hand side of foyer. You need to go out of the exit on Greek Street and back to the foyer entrance on Old Compton Street. |