FASTLOVE - GEORGE MICHAEL TRIBUTE TOUR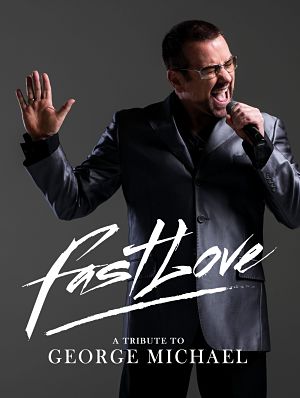 Fastlove - a Tribute to George Michael is an all new production.
2019 will see it step into Arenas for the first time bringing with it a larger production and band worthy of one of the worlds greatest ever performers.
Also playing on the tour is Ed Barker, George's original saxophonist, Anton Stephans, a former backing singer to George Michael, Mariah Carey and Boyz II Men, as well as an X-Factor finalist., and Colin Graham, Wham!'s incredible trumpet player.
These Arena dates will mark the evolution of Fastlove, showcasing a larger production, a bigger band with even more classic show-stopping numbers ranging from Wham! classics of the 'new pop' revival to the chart topping success of the eighties album Faith plus tunes from the nineties & noughties including the irresistible Flawless.
Listen to all your favourite songs including : Careless Whisper, Freedom, Faith, Father Figure, One More Try, Outside, Jesus To A Child, I Want Your Sex, Kissing A Fool, and many more.
Relive the passion, the flare, and unique sensitivity of George Michael in this concert. As the great man said: you gotta have faith…
Below are the dates we have so far:
To help prevent the spread of coronavirus (COVID-19), we are sorry to confirm that all performances of this tour are cancelled up to 26 April 2020 when the situation will be reviewed.
| | | |
| --- | --- | --- |
| Richmond Theatre | 13th June | |
| Birmingham Alexandra | 14th July | |
| Torquay Princess | 27th November | |
| Folkestone Leas Cliff Hall | 28th November | |