BEDKNOBS AND BROOMSTICKS TOUR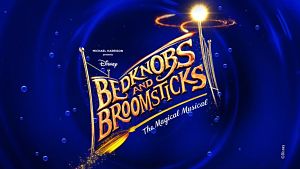 A new UK & Ireland tour of Disney's Bedknobs and Broomsticks opened at the Theatre Royal Newcastle in August 2021.
First casting news is that Dianne Pilkington will lead the cast as Miss Eglantine Price (an apprentice witch who must take in three refugee children escaping the Blitz of WWII), with Charles Brunton as fraudulent magician Professor Browne, Conor O'Hara as Charlie Rawlins (orphaned Carrie and Paul's older brother) and Jacqui DuBois as Mrs. Jessica "Jessie" Hobday, the local postmistress of Pepperinge Eye and chairwoman of the War Activities Committee.
Joining them will be Matthew Elliot Campbell, Rob Madge, Mark Anderson, Emma Thornett, Sadie- Jean Shirley, Kayla Carter, Sam Lupton, Nathanial Morrison, Robin Simoes da Silva, Georgie Buckland, Vinnie Monachello, Susannah ven den Berg, and Jonathan Cobb.
The Rawlins children will be played by Dexter Barry, Izabella Bucknell, Haydn Court, Poppy Houghton, Evie Lightman and Aidan Oti.
It telle the story of an apprentice witch, three kids and a cynical magician conman who are searching for the missing component to a magic spell to be used in the defense of Britain in World War II. Charlie , Carrie , and Paul Rawlins are sent to live with Miss Eglantine Price, who is an apprentice witch. Charlie blackmails Miss Price that if he is to keep her practices a secret, she must give him something, so she takes a bedknob from her late father's bed and places the "famous magic travelling spell" on it, and only Paul can activate it. Their first journey is to a street in London, where they meet Emelius Browne (David Tomlinson), former headmaster of Miss Price's witchcraft training correspondence school. Miss Price tells him of a plan to find the magic words for a spell known as "Substitutiary Locomotion", which brings inanimate objects to life. This spell will be her work for the war effort
The production will be jointly directed by Candice Edmunds and Jamie Harrison who will also bring the sets and illusions of this magical new musical to life.
Neil Bartram and Brian Hill will collaborate on the show's book and new songs, in addition to the original, classic score by the Sherman Brothers (Mary Poppins, The Jungle Book, Chitty Chitty Bang Bang), including Portobello Road, The Age Of Not Believing, The Beautiful Briny there will be new music and lyrics by Neil Bartram and book by Brian Hill, Bedknobs and Broomsticks The creative team for the show includes costume designer Gabriella Slade, orchestrator Simon Hale, music supervisor Tom Murray, lighting designer Simon Wilkinson, and sound designer Gareth Fry.
You can watch the first trailer for the show here.
THIS TOUR ENDED ON 1ST MAY 2022