MATTHEW BOURNE ROMEO & JULIET TOUR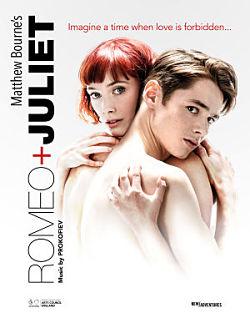 New Adventures have announced the world premiere of Matthew Bourne's "ROMEO AND JULIET" opening at Curve, Leicester on Monday 13th May 2019 before touring to 13 UK venues with a four-week summer season at Sadler's Wells in London from 7th-31st August 2019
Matthew Bourne's "ROMEO AND JULIET" is a passionate and contemporary re-imagining of Shakespeare's classic love story. Bursting with youth, vitality and Matthew Bourne's trademark storytelling, Britain's brightest young dance talent join the New Adventures company for this World Premiere production. Directed and choreographed by Matthew Bourne, collaborating with his entire New Adventures Associate Artistic team; Etta Murfitt, Associate Artistic Director, set and costume design by Lez Brotherston; lighting by Paule Constable; sound by Paul Groothuis; and new orchestrations of the Prokofiev score by Terry Davies, played live by the New Adventures Orchestra conducted by Brett Morris.
The title roles of 'Romeo' and 'Juliet' will be played by six New Adventures rising stars and two exciting new dancers making their professional debuts.'Juliet' will be played by Cordelia Braithwaite,  currently performing as 'Cinderella' on the international tour; Seren Williams, who joined the company in 2016 with Matthew Bourne's award-winning production of "The Red Shoes" and Bryony Harrison who is making her debut with New Adventures on tour with Matthew Bourne's legendary production of "Swan Lake".
'Romeo' will be performed by Andrew Monaghan, currently 'The Pilot' in "Cinderella", Paris Fitzpatrick who is playing the 'Angel' in "Cinderella" and João Carolino who joined the company in 2017 with "Early Adventures".
Making their professional debuts with the company are Harrison Dowzell, as 'Romeo', who auditioned for the Young Cast in Nottingham, and Bryony Wood, as 'Juliet', discovered during the Young Cast auditions in Southampton. Both are in their graduate years at Performers College and Tring Park School for the Performing Arts respectively. New Adventures is working in partnership with both vocational colleges to support the completion of their training during the tour.
They are joined by leading New Adventures artists, Madelaine Brennan, Daisy May Kemp, Danny Reubens and Daniel Wright who will create the "adult" world of "Romeo and Juliet". Ben Brown, Reece Causton, Jackson Fisch, Kate Lyons, Stephen Murray and Mark Samaras will come to this production direct from our USA Tour of Matthew Bourne's "Cinderella".
Below are the dates we have so far.
| | | |
| --- | --- | --- |
| Leicester Curve | 13-18 May 2019 | |
| Bradford Alhambra | 22-25 May | |
| Northampton Royal & Derngate | 28 May-1 June | |
| Plymouth Theatre Royal | 4-8 June | |
| Salford Lowry | 11-15 June | |
| Cardiff Millenium Centre | 18-22 June | Buy tickets |
| LONDON Sadler's Wells | 7-31 August | |
| Norwich Theatre Royal | 3-7 September | on sale spring 2019 |
| Birmingham Hippodrome | 10-14 September | |
| Canterbury Marlowe | 17-21 September | on sale soon |
| Southampton Mayflower | 24-28 September | |
| Nottingham Theatre Royal | 1-5 October | |
| Newcastle Theatre Royal | 8-12 October | |
Tour Dates
Tue 29 - Sat 02
Jan 2019 Feb 2019
Click for more details and to book tickets for Matthew Bourne's Swan Lake at Milton Keynes Theatre, Milton Keynes
Milton Keynes Theatre
Matthew Bourne's Swan Lake
Milton Keynes
More details
Tue 05 - Sat 09
Mar 2019 Mar 2019
Click for more details and to book tickets for Matthew Bourne's Swan Lake at King's Theatre Glasgow, Glasgow
King's Theatre Glasgow
Matthew Bourne's Swan Lake
Glasgow
More details
Tue 12 - Sat 16
Mar 2019 Mar 2019
Click for more details and to book tickets for Matthew Bourne's Swan Lake at Bristol Hippodrome Theatre, Bristol
Bristol Hippodrome Theatre
Matthew Bourne's Swan Lake
Bristol
More details
Tue 09 - Sat 13
Apr 2019 Apr 2019
Click for more details and to book tickets for Matthew Bourne's Swan Lake at Liverpool Empire, Liverpool
Liverpool Empire
Matthew Bourne's Swan Lake
Liverpool
More details
Tue 16 - Sat 20
Apr 2019 Apr 2019
Click for more details and to book tickets for Matthew Bourne's Swan Lake at New Wimbledon Theatre, Wimbledon
New Wimbledon Theatre
Matthew Bourne's Swan Lake
Wimbledon
More details
Tue 30 - Sat 04
Apr 2019 May 2019
Click for more details and to book tickets for Matthew Bourne's Swan Lake at New Victoria Theatre, Woking
New Victoria Theatre
Matthew Bourne's Swan Lake
Woking