BAT OUT OF HELL TOUR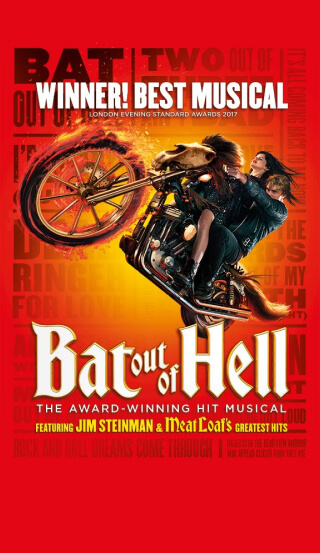 Meatloaf and Jim Steinman's Bat Out of Hell has previously played limited seasons at Manchester Opera House, London Coliseum and London's Dominion Theatre, as well as in Canada, Germany and New York. It is now to go on a UK tour later this year.. The cast willl ibclude Rob Fowler and Sharon Sexton returning to the show as Sloane and Falco respectively.  They will be joined by Glenn Adamson (American Idiot) as Strat , with Martha Kirby (Grease) playing Raven with  Jordan Frazier (Nina Simone) as Zahara, Jonathan Bishop (Hamilton) as Jagwire, Killian Thomas Lefevre (Stranger Things Secret Cinema) as Tink, Alex Lodge (The Book of Mormon) as Ledoux and Kellie Gnauck (Evita) as Valkyrie.
Also in the cast are Emily Beth Harrington as Kwaidan, Amy Matthews as Vilmos, Rebecca Lafferty as Scherrzo, Samuel Pope as Hoffmann, Andy Prosser as Markevitch, Jack Heasman as Denym, James Chisholm as Dessasuite, Andrew Carthy as Hollander, Rob Maguire as Astroganger and Billie Hardy as Goddesilla. At certain performances, the role of Strat will be played by Samuel Pope.
It is a high octane musical adventure with music, lyrics and book by Jim Steinman, based on the debut sudio album of the same name by American rock singer Meat Loaf. The show is directed by by Jay Scheib, with musical supervision and additional arrangements by Michael Reed, set and costume design by Jon Bausor, original costume designs by Meentje Nielsen, video design by Finn Ross, lighting design by Patrick Woodroffe, sound design by Gareth Owen, orchestration by Steve Sidwell and casting by Anne Vosser.
It is about rebellious youth and passionate love, set against the backdrop of a post-cataclysmic city adrift from the mainland. The eternally young Strat and his wild gang, The Lost, roam the streets of Obsidian, a post-apocalyptic Manhattan, ruled by the wicked and tyrannical Falco. When Strat first sets eyes on Falco's daughter, Raven, who has been locked away in the palace towers, he sets out to rescue her from her evil father's clutches in a full throttle tale of teenage love, youthful rebellion and living the rock and roll dream.
This award-winning musical features iconic hits including I'd Do Anything For Love (But I Won't Do That), Paradise By The Dashboard Light, Two Out Of Three Ain't Bad, Dead Ringer For Love and Bat Out of Hell, in an exciting over the top theatrical spectacle unlike any other.
Below are the first tour dates with more to follow along with casting news.
Below are the RESCHEDULED DATES WE HAVE SO FAR

| | | |
| --- | --- | --- |
| Liverpool Empire | 8 Dec-2 January 2021 | |
| Birmingham Alexandra | 5-16 January | on sale soon |
| Wimbledon Theatre | 1-12 June | on sale soon |
| Manchester Opera House | 9-25 September | on sale soon |
| Oxford New | 5-16 October | on sale soon |
| Glasgow Kings | 19-30 Oc tober 2021 | on sale soon |