ROCKY HORROR SHOW TOUR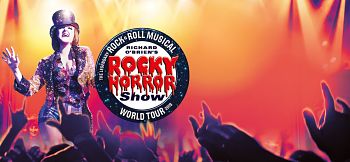 The Rocky Horror Show is going back on tour again next year opening in March 2021 and running until October
The production is directed by Christopher Luscombe and features songs including "Sweet Transvestite", "Science Fiction/Double Feature", "Dammit Janet" and "The Time-Warp".
On the way to visit an old college professor two very clean cut American kids Brad Majors and his fiancée Janet Weiss blow a tyre and go to get help at a house in the distance where they can see a light on. But it's the home of Frankenstein, where Dr Frank'n'Furter is in the middle of one of his scary experiments.

Sweethearts Brad and Janet go on an adventure they'll never forget, with Frank'n'Furter, Rocky, Riff Raff and Magenta.  Timeless classics help them on their way including Sweet Transvestite, Damn it Janet and the pelvic-thrusting Time Warp.
Casting news is that Ore Oduba (Curtains) will play Brad, and he will be joined by  Stephen Webb (Jersey Boys / Legally Blonde) as Frank, Philip Franks (The Darling Buds of May) as The Narrator and Haley Flaherty (Mamma Mia! / Chicago) as Janet.Kristian Lavercombe (Jersey Boys / Jesus Christ Superstar) will once again reprise his role as Riff Raff,  with Lauren Ingram (Beauty and the Beast / My Fair Lady) as Columbia. Callum Evans (Grease / Miss Saigon) playing  Rocky and  Joe Allen (Little Shop of Horrors / Charlie and The Chocolate Factory) as Eddie and Dr Scott.

Joining the cast as Phantoms are Reece Budin (Beautiful: The Carole King Musical / Man of La Mancha), Jordan Fox (Kinky Boots / Hairspray) and Rachel Grundy (Starlight Express / Peter Pan), with Danny Knott (Saturday Night Fever / A Midsummer Nights' Dream) as Male Swing
Below are the dates we have so far.
| | | |
| --- | --- | --- |
| Glasgow King's | 27 June- 2 July | |
| Northampton Royal & Derngate | 4-9 July | |
| Hastings White Rock | 7-12 November | |
| Wimbledon New | 21-26 November | |
| Brighton Theatre Royal | 3-7 January 2023 | |
| Manchester Opera House | 20-25 February | |
| Esinburgh Playhouse | 13-18 March | |
| Birmingham Alexandra | 27 March-1 April | |
| Newcastle Theatre Royal | 16-19 November | |