ROCKY HORROR SHOW TOUR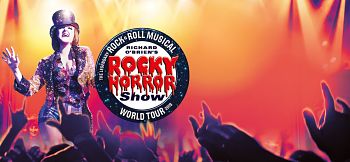 The Rocky Horror Show is back on tour again.
The production is directed by Christopher Luscombe and features songs including "Sweet Transvestite", "Science Fiction/Double Feature", "Dammit Janet" and "The Time-Warp".
On the way to visit an old college professor two very clean cut American kids Brad Majors and his fiancée Janet Weiss blow a tyre and go to get help at a house in the distance where they can see a light on. But it's the home of Frankenstein, where Dr Frank'n'Furter is in the middle of one of his scary experiments.

Sweethearts Brad and Janet go on an adventure they'll never forget, with Frank'n'Furter, Rocky, Riff Raff and Magenta.  Timeless classics help them on their way including Sweet Transvestite, Damn it Janet and the pelvic-thrusting Time Warp.
For the London run West End star Stephen Webb will play Frank ´n´Furter with Haley Flaherty as Janet. Ore Oduba  will return to the role of Brad Majors with Kristian Lavercombe once again reprising his role as Riff Raff,  with Darcy Finden (who made her professional debut last year as one of the Phantoms) now stepping up to play the role of  Columbia. Ben Westhead plays Rocky, Suzie McAdams takes on the role of Magenta and Joe Allen plays Eddie & Dr Scott.
Playing the Phantoms are Stefania Du Toit, Jessica Sole, Reece Budin and Fionán O'Carroll who is making his professional debut. Nathan Shaw is Male Swing and Tyla Nurden is Female Swing.

Below are the dates we have so far;
| | | |
| --- | --- | --- |
| Southampton Mayflower | 20-25 March | Buy tickets |
| Birmingham Alexandra | 27 March-1 April | |
| Cheltenham Everyman | 3-8 April | |
| Cardiff New | 10-15 April | |
| Stockton Globe | 24-29 April | |
| LONDON Peacock | 3 May-10 June | |
| Leeds Grand | 27 June-1 July | |
| Aylesbury Waterside | 3-8 July | |
| Crewe Lyceum | 10-15 July | |
| Woking New Victoria | 17-22 July | Buy tickets |
| Portsmouth King`s | 24-29 July | |
| Southend Cliffs | 14-19 August | |
| Notttingham RCH | 21-16 August | |