ROCKY HORROR SHOW TOUR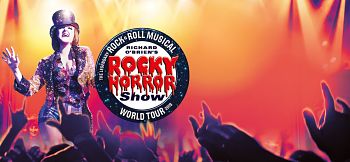 Hot from a sell out worldwide tour and now having been seen by over 30 million theatregoers across the globe, Richard O'Brien's timeless musical masterpiece is to go on tour again returning to its spiritual home in Brighton this December before embarking on a 2019 UK tour.
On the way to visit an old college professor two very clean cut American kids Brad Majors and his fiancée Janet Weiss blow a tyre and go to get help at a house in the distance where they can see a light on. But it's the home of Frankenstein, where Dr Frank'n'Furter is in the middle of one of his scary experiments.

Sweethearts Brad and Janet go on an adventure they'll never forget, with Frank'n'Furter, Rocky, Riff Raff and Magenta.  Timeless classics help them on their way including Sweet Transvestite, Damn it Janet and the pelvic-thrusting Time Warp.
Casting includes Blue singer, Hollyoaks actor and West End star Duncan James and West End star Stephen Webb starring as Frank n Furter , with Flashdance tour leads and Strictly Come Dancing Champion Joanne Clifton as Janet and James Darch as Brad. Kristian Lavercombe will be reprising his role as Riff Raff.
Guest narrators announced so far are Comedian Dom Joly, Coronation Street's Beverley Callard, presenter Alison Hammond, The Now Show's Steve Punt , Rocky Horror Show regular Philip Franks and Kristian Lavercombe, who has played the role of Riff Raff over 1500 times taking on the role at various points throughout the tour as detailed on the table below with more celebrity narrators to be announced over the coming months.
They will be joined by Miracle Chance/Columbia, Ross Chisari/Eddie and Dr Scott, Callum Evans/Rocky, Laura Harrison/Magenta/Usherette, Reece Budin, Shelby Farmer, Katie Monks and Jake Small as Phanoms with Andrew Ahern/Swing & Resident Choreographer and Maddie Hope Coelho/wing & Dance Captain
THIS TOUR ENDED ITS RUN ON 2ND NOVEMBER 2019

Guest Narrators:
- Dom Joly Theatre Royal Brighton / Sunderland Empire/ Milton Keynes Theatre / New Wimbledon Theatre, London / New Victoria Theatre, Woking/ Mayflower, Southampton/ Bristol Hippodrome
- Beverley Callard,Opera House, Manchester/ Liverpool Empire
- Alison Hammond - Birmingham
- Steve Punt - Eastbourne /Stoke-on-Trent/ York / Bath /Cambridge / Malvern / Southend /Newcastle
- Philip Franks - Sheffield / Torquay / Belfast / Oxford / Bromley / High Wycombe / Chester / Dartford / Hull / Plymouth / Wolverhampton / Bournemouth
- Kristian Lavercombe Blackpool and Leeds