MAMMA MIA!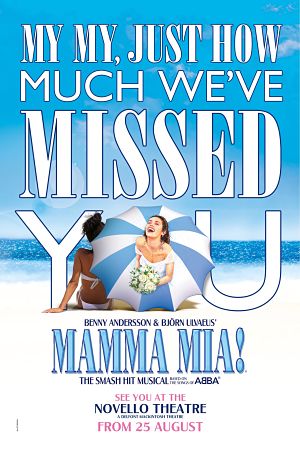 Mamma Mia! is a real feel good musical featuring Abba's best known songs including The Winner Takes It All, Money, Money, Money, Dancing Queen, Chiquitita, Voulez Vous, SOS, Thank You for the Music, Knowing Me Knowing You, and Mamma Mia.
Click on the image to reserve your tickets for Mamma Mia!

Through the songs of ABBA the story unfolds on a small Greek Island where  Donna, who is a feisty forty-something single mum (played by Meryl Streep in the film), relives memories of carefree days and careless nights. She has a daughter called Sophie who dreams of tradition, romance and a big white wedding.
Sophie is about to be married to Sky and wants her father to walk her down the aisle. But who is her father? Her mother won't tell her so Sophie reads her diary and discovers the name of three men who could possibly fit the bill. She secretly invites all three of them to the wedding and the fun starts when they arrive on the island and discover why they have been invited.
Returning to the cast will be Mazz Murray as Donna, Richard Trinder as Sam Carmichael, Neil Moors as Harry Bright, Stephen Beckett as Bill Austin, and Sophie Matthew as Lisa. They will be joined by Josie Benson ( In The Heights) as Tanya, Gemma Goggin (Doctor Faustus ) as Rosie, Emma Mullen (Shetland) as Sophie, Jack Danson (2020 graduate) as Sky, Tegan Bannister (Les Misérables) as Ali, Michael Nelson (Mamma Mia!) as Eddie and Alexandros Beshonges (2020 graduate) as Pepper, with Natalie Langston (Evita) playing the role of Donna at certain performances.

Also new to the cast will be Gemma Atkins, Chloe-Jo Byrnes, Nicole Carlisle, Angus Good, Natalie Jayne Hall, James Humpleman, Morgan Jackson, George Olney, Kyle Turner and Alex Woodward, who will be joining Natasha Agnew, Chloe Ames, Frankie Jones, Lauren Hampton, Grace Moorhouse, Jodie Nolan, Dan O'Brien, Michael Storrs (Father Alexander), Michael Tyler and Simon Willmont.
Cast changes from 10th October: Mazz Murray will continue to star as Donna with Josie Benson as Tanya, Gemma Goggin as Rosie and Stephen Beckett as Bill.
Joining the show will be Norman Bowman (Les Misérables) as Sam, Christopher Dickins (Oklahoma!) as Harry, Meg Hateley (making her West End debut) as Sophie, Miles Henderson (making his West End debut) as Sky, Natasha Heyward (making her UK and West End debut) as Ali, Olivia Lallo (making her West End debut) as Lisa, Lucca Chadwick-Patel (Legally Blonde) as Eddie and Jake Bailey (Call the Midwife) as Pepper, with Jennifer Adab (making her West End stage debut) playing Donna at certain performances.
Also continuing in the cast are Gemma Atkins, Natalie Jayne Hall, Jennifer Hepburn, Frankie Jones, Natalie Langston, Michael Storrs and Simon Willmont who will be joined by Zac Adlam, Victoria Anderson, Sinéad Courtney, Ellie-Grace Cousins, Lawrence Guntert, David Haydn, Olivia Neville, Annell Odartey, Jessie Odeleye, Callum Rose, Jack Rose, Robert Slatter, Jacob Young, Chloe Way and Dan Wilshire.
Written by Catherine Johnson, Music by: Benny Andersson / Bjorn Ulvaeus and directed by Phyllida Lloyd.
You can reserve your tickets to Mamma Mia! which is booking until 30th September 2023
There is also a UK tour of Mamma Mia! in 2022/23
HOW TO GET TO MAMMA MIA
Novello Theatre
5 Aldwych
London, WC2B 4LD
Tube :Covent Garden (approx 300 metres) Charing Cross & Holborn (both approx 600 metres)
Train: Charing Cross (approx 600 metres)

6, 19, 13 and 77a stop outside the theatre with more buses serving the Strand

NCP Drury Lane.
DISABLED ACCESS TO MAMMA MIA!
| | |
| --- | --- |
| | Infrared system in the auditorium, and reinstating loop system in the Box Office. |
| | Guide dogs are not allowed into auditorium, but staff are happy to dog-sit. |
| | Separate access for wheelchair users off Catherine Street. Venue not suitable for scooters. Theatre provides transfer seats for one wheelchair in total per performance. Transfer seats are available at A23 and A24 in the Dress Circle. Wheelchair user must bring a non-disabled companion. Customers who can't transfer from their wheelchair can use Dress Circle AA 10-11. |
| | Disabled access lavatory at Dress Circle level with street access from Catherine Street. |