THE JERSEY BOYS TOUR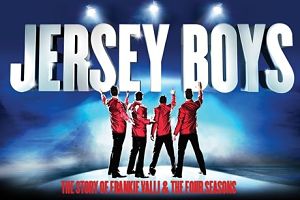 Following the show's closure in London in March 2016, Jersey Boys will set out on a second tour at the end of 2017 (the show previously toured the UK in 2014-15),  opening at the New Alexandra Theatre in Birmingham on December 16th, before visiting venues  including Liverpool, Milton Keynes, Stoke-on-Trent, Hull, Sunderland and Glasgow. It is currently running until April 14, 2018, with  further dates to  be announced.

Jersey Boys tells the story of Frankie Valli and The Four Seasons who are one of the most successful bands in pop music history.  They wrote their own songs, with their own sounds and sold 175 million records worldwide - all before they were 30!
Four boys from the wrong side of the tracks in New Jersey form a group and invent their own unique sound to eventually find a place in Rock & Roll Hall of Fame selling 100 million records worldwide.

This show features many of the band's worldwide hits  including: "Beggin'", "Can't Take my Eyes Off You", "Oh What a Night", "Walk Lie a Man", "Bye, Bye Baby – Baby Goodbye", "Sherry" and "Big Girl's Don't Cry" – to name but a few!
Book by Marshall Brickman and Rick Elice, Music and Lyrics by Bob Gaudio and Bob Crewe, Directed by Des McAnuff &  Choreography by Sergio Trujillo. It is produced by Dodger Theatricals and Ambassador Theatre Group, with Joseph J Grano, Pelican Group, Latitude Link and Rick Steiner.
Below are the dates we have so far with more to follow along with casting news.
| | | |
| --- | --- | --- |
| Birmingham Alexandra | 16th December -6 January 2018 | |
| Liverpool Empire | 9-20 January | |
| Milton Keynes | 23 January-3 February | |
| Stoke Regent | 6-17 February | |
| Hull | 20 February-3 March | |
| Sunderland Empire | 20-31 March | |
| Glasgow King's | 3-14 April | |
| Plymouth Theatre Royal | 17-28 April | |
| Nottingham Royal Concert Hall | 9-19 May | |
| Bradford Alhambra | 22 May-2 June | |
| Norwich Theatre Royal | 5 -16 June | |
| Sheffield Lyceum | 19-39 June | |
| Aylesbury Waterside | 3-14 July | |
| Southend Cliffs | 17-28 July | |
| Newcastle Theatre Royal | 31 July-11 August | |
| Aberdeen His Majesty's | 14-25 August | |
| Wolverhampton Grand | 28 August-8 September | |
| Belfast Opera House | 11-22 September | |