HEATHERS THE MUSICAL TOUR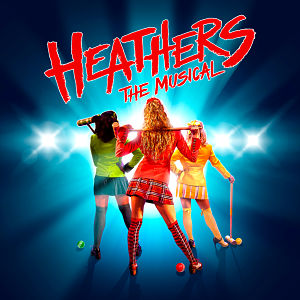 Heathers The Musical is set for a new UK tour in 2023. It previously ran at The Other Palace and in the West End in 2018 and 2021, and in 2019 picked up the Best New Musical Award at the WhatsOnStage Awards. The production IS ALSO CURRENTLY RUNNING AT THE OTHER PALACE IN LONDON until 19th February 2023
Laurence O'Keefe and Kevin Murphy's musical is based on the iconic film of the same name, following a school girl, Veronica, who tries to fit in with the elitist clique of "Heathers".The musical is is based on the 1988 cult movie that starred Winona Ryder and Christian Slater and and follows protagonist Veronica Sawyer, who joins Westerberg High, where popularity is so very a matter of life and death, and she is just another of the nobodies dreaming of a better day. But when she's unexpectedly taken under the wings of the three beautiful and impossibly cruel Heathers, her dreams of popularity finally start to come true. Until JD turns up, the mysterious teen rebel who teaches her that it might kill to be a nobody, but it's murder being a somebody.
Produced by Bill Kenwright and Paul Taylor-Mills, the musical is directed by acclaimed American screen and stage director Andy Fickman, with choreography by Thriller Live's Gary Lloyd, design by David Shields, lighting by Ben Cracknell and sound by Dan Samson.


Below are the dates we have so far with casting news to follow..
| | | |
| --- | --- | --- |
| Theatre Royal Windsor | 14 -25 February 2023 | |
| New Victoria Woking | 7 -11 March | |
| Theatre Royal Brighton | 14 -18 March | |
| Theatre Royal Bath | 21 - 25 March | |
| Theatre Clwyd | 28 March - 1 April | |
| Plymouth Theatre Royal | 4-8 April | on sale soon |
| Stoke Regent Theatre | 11 - 15 April | |
| Dublin Bord Gáis Energy | 25 April -6 May | |
| York Opera House | 9-13 May | |
| Alexandra Birmingham | 16-20 May | |
| Aylesbury Waterside | 30 May to 3 June | |
| Cheltenham Everyman | 6-10 June | on sale soon |
| Norwich Theatre Royal | 13-17 June | on sale soon |
| Sunderland Empire | 20-24 June | |
| Kings Theatre Glasgow | 27 June to 1 July | |
| Liverpool Empire | 4 to 8 July | |
| Bradford Alhambra | 18-22 July | on sale soon |
| Crawley Hawth | 1-5 August | on sale soon |
| Manchester Palace | 8-12 August | |
| Leicester Curve | 15-19 August | on sale soon |
| Cardiff WMC | 22-26 August | on sale soon |
| Blackpool Opera House | 12-16 September | on sale soon |
| Hull New | 26-30 September | on sale soon |
| Darlington Hippodrome | 3-7 October | on sale soon |