GIRL FROM THE NORTH COUNTRY TOUR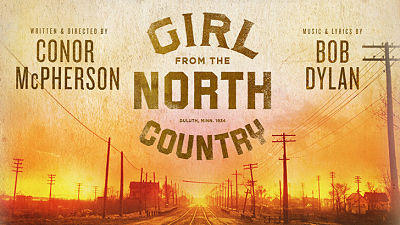 Bob Dylan's Girl From The North Country is about to go on tour.
Written and directed by playwright Conor McPherson. The piece is set Dylan's home town of Duluth, Minnesota in the midst of the Great Depression and is named after a track Dylan wrote in 1963 called Girl From The North Country. It revolves around a guest house, focusing on the family who run it.  They are a  family adrift, their future on a knife edge. Lost and lonely people drifting through rooms of their guesthouse. But Nick Laine thinks he's seen a way out…
The full cast includes: Keisha Amponsa Banson (Mrs Neilsen), Ross Carswell (Elias Burke), Colin Connor (Nick Laine), Frankie Hart (Ensemble), Joshua C Jackson (Joe Scott), Eli James (Reverend Marlowe), Justina Kehinde (Marianne), Teddy Kempner (Mr Perry), Graham Kent (Ensemble), Owen Lloyd (Ensemble), Nichola MacEvilly (Ensemble), Chris McHallem (Dr Walker), Frances McNamee (Elizabeth Laine), Gregor Milne (Gene Laine), Eve Norris (Katherine Draper), Daniel Reid-Walters (Ensemble), James Staddon (Mr Burke), Neil Stewart (Ensemble) and Rebecca Thornhill (Mrs Burke).
It includes songs spanning the five decades of Dylan's career — featuring classics  Like A Rolling Stone, Forever Young, Make You Feel My Love and Time Out Of Mind, as well as tunes that people probably don't have in their Dylan collections. 'There'll be known songs, and unknown songs. But they're all great songs.' The show's instruments and arrangements will have a Thirties feel. The on-stage band will use steel guitars, harmoniums, mandolins and harmonicas.
THIS TOUR ENDED ON 18TH MARCH 2023