LES MISERABLES TOUR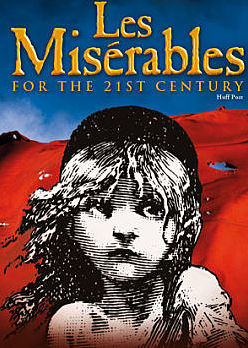 After nearly a decade since the last UK tour, Cameron Mackintosh has announced that his  Broadway production of Boublil and Schönberg's musical "LES MISÉRABLES" is to go on tour at the end of this year opening  at the Curve Leicester  in November 2018 with Killian Donnelly playing Jean Valjean. He will be joined by Nic Greenshields as 'Javert', Katie Hall as 'Fantine', Martin Ball as 'Thénardier', Sophie-Louise Dann as 'Madame Thénardier', Harry Apps as 'Marius', Tegan Bannister as 'Eponine', Will Richardson as 'Enjolras' and Bronwen Hanson as 'Cosette'.

Completing the cast will be Joseph Anthony, Helen Aylott, Jamie Birkett, Keoni Blockx, Michael Burgen, Nicholas Carter, Mary-Jean Caldwell, Danny Colligan, Nicholas Corre, Megan Gardiner, Zac Hamilton, Jessie Hart, Teleri Hughes, Brian James Leys, Ruby Lyon, Leo Miles, Shane O'Riordan, Lee Ormsby, Jordan Simon Pollard, Corrine Priest, Aaron Pryce-Lewis, Janne Snellen, Ruben Van keer and Emma Warren.
Cast change from 18 November 2019: Dean Chisnall will play 'Jean Valjean', Nic Greenshields 'Javert', Katie Hall 'Fantine', Ian Hughes 'Thénardier', Harry Apps 'Marius', Charlie Burn 'Cosette', Barnaby Hughes 'Enjolras' and Helen Walsh 'Madame Thénardier'.
Also in the cast will be Joseph Anthony, George Arvidson, Adam Boardman, Olivia Brereton, Danny Colligan, Rebecca Ferrin, Aimee Good, Jenna Innes, Ebony Jonelle, Robert Madge, Liam Marcellino, Emily Owens, Jordan Simon Pollard, Corinne Priest, Jamie Pritchard, Aaron Pryce-Lewis, Dean Read and Janne Snellen with further casting to be announced soon.
This  new staging has scenery inspired by the paintings of Victor Hugo, and has been seen in North America, South America, Korea, Japan, Canada, Australia, Spain, France, Manila, Singapore, Dubai and Broadway.
Les Miserables is a real tear jerker which is unsuitable for younger children. It is based on Victor Hugo's epic novel, spanning two decades in the life of Jean Valjean: starting in Digne in France in 1815, moving to Montfermeil in 1823 and eventually getting to Paris in 1832.
The relentless policeman Javert pursues escaped convict Jean Valjean for years through revolutionary France. Valjean becomes a factory owner and mayor, agrees to raise the daughter of dying prostitute and joins the fight for freedom. None of this impresses Javert - until Valjean saves his life. The intricate plot has many twists and turns including a romance between Marius and Cosette, and the unrequited love of Eponine.
It includes some haunting scores including "Who Am I?," "A Little Fall of Rain," "One Day More," "Bring Him Home" and "I Dreamed a Dream."
Below are the tour dates we have so far with more to follow.
| | | |
| --- | --- | --- |
| Newcastle Theatre Royal | 15 August-5 October | |
| Liverpool Empire | 9-26 October | |
| Southampton Mayflower | 29 October-23 November | |
| Cardiff Millennium Centre | 26 November-1 January 2020 | |
| Norwich Theatre Royal | 4 March-4 April | |
| Bristol Hippodrome | 7 April-9 May | |
| Salford Lowry | 12-30 May | |
| Glasgow Theatre Royal | 3-27 June | on sale 30/10 |
| Birmingham Hippodrome | 30 June – 18 July | |
| Leeds Grand | 23 July - 15 August | on sale 16/9 |
| Dublin Bord Gais Energy | 25th August-12 September | |
| Canterbury Marlowe | 25 September -24 October | on sale 23/9 |
| Hull New Thaetre | 28 October - 21 November | on sale 23/9 |