LES MISERABLES TOUR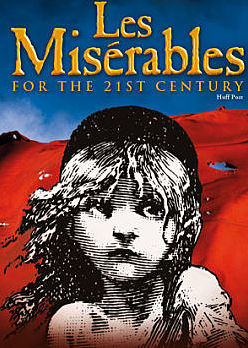 After nearly a decade since the last UK tour, Cameron Mackintosh has announced that his  Broadway production of Boublil and Schönberg's musical "LES MISÉRABLES" is to go on tour at the end of this year opening  at the Curve Leicester  in November 2018 with Killian Donnelly playing Jean Valjean.
Cameron Mackintosh said, Since I first conceived the new production of "Les Misérables" to celebrate the shows 25th anniversary in 2009, this production has taken the world by storm - more than matching the success of the original, which can now only be seen in London.  I am thrilled that modern audiences have embraced this production as Les Mis for the 21st century and it is playing to packed houses all over the world in many languages. It also inspired the hugely successful movie version starring Hugh Jackman, Anne Hathaway and Eddie Redmayne.This latest version comes  from its recent Broadway triumph (now once again on a sell-out tour of North America) and is even more spectacular than the original.  I am very proud that this extraordinary Boublil and Schönberg musical remains as fresh, thrilling and exciting as ever – and people are still storming the barricades for a ticket.
This  new staging has scenery inspired by the paintings of Victor Hugo, and has been seen in North America, South America, Korea, Japan, Canada, Australia, Spain, France, Manila, Singapore, Dubai and Broadway.
Les Miserables is a real tear jerker which is unsuitable for younger children. It is based on Victor Hugo's epic novel, spanning two decades in the life of Jean Valjean: starting in Digne in France in 1815, moving to Montfermeil in 1823 and eventually getting to Paris in 1832.
The relentless policeman Javert pursues escaped convict Jean Valjean for years through revolutionary France. Valjean becomes a factory owner and mayor, agrees to raise the daughter of dying prostitute and joins the fight for freedom. None of this impresses Javert - until Valjean saves his life.
The intricate plot has many twists and turns including a romance between Marius and Cosette, and the unrequited love of Eponine.
It includes some haunting scores including "Who Am I?," "A Little Fall of Rain," "One Day More," "Bring Him Home" and "I Dreamed a Dream."
Below are the tour dates we have so far with more venues and casting news to follow.
| | | |
| --- | --- | --- |
| Leicester Curve | 3-24 November 2018 | SOLD OUT |
| Dublin Bord Gais | 5 December- 12 January 2019 | |
| Edinburgh Festival | 22 January-16 February | |
| Manchester Palace | 19 February-30 March | |
| Birmingham Hippodrome | 2 April-11 May | |
| Milon Keynes Theatre | 14 May-8 June | |
| Newcastle Theatre Royal | 15 August-2 October | |