LES MISERABLES TOUR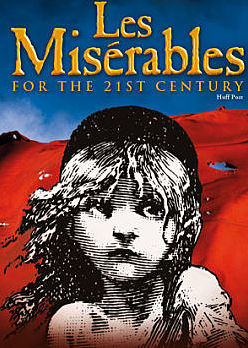 After nearly a decade since the last UK tour, Cameron Mackintosh has announced that his  Broadway production of Boublil and Schönberg's musical "LES MISÉRABLES" is to go on tour in November with Dean Chisnall playing Jean Valjean. He will be joined by Nic Greenshields/Javert and Katie Hall/Fantine with Ian Hughes as 'Thénardier', Will Callan as 'Marius', Nathania Ong as 'Eponine/Siobhan O'Driscoll from 30/8, Helen Walsh as 'Madame Thénardier', Barnaby Hughes as 'Enjolras', Rachelle Ann Go as 'Fantine' (from Monday 16 May)/ Lauren Drew from 2/11 and Paige Blankson as 'Cosette'.

The cast is completed by George Arvidson, Aidan Banyard, Will Barratt, Adam Boardman, Rebecca Bolton, Emily Olive Boyd, Olivia Brereton, Earl Carpenter, Harry Chandler, Rebecca Ferrin, Aimee Good, Steven Hall, Jenna Innes, Tessa Kadler, Damien Kneale, Caleb Lagayan, Abel Law, Joseph McDonnell, Zabrina Norry, Emily Owens, Jordan Simon Pollard, Jamie Pritchard, Dean Read and Rebecca Ridout..
This  new staging has scenery inspired by the paintings of Victor Hugo, and has been seen in North America, South America, Korea, Japan, Canada, Australia, Spain, France, Manila, Singapore, Dubai and Broadway.
Les Miserables is a real tear jerker which is unsuitable for younger children. It is based on Victor Hugo's epic novel, spanning two decades in the life of Jean Valjean: starting in Digne in France in 1815, moving to Montfermeil in 1823 and eventually getting to Paris in 1832.
The relentless policeman Javert pursues escaped convict Jean Valjean for years through revolutionary France. Valjean becomes a factory owner and mayor, agrees to raise the daughter of dying prostitute and joins the fight for freedom. None of this impresses Javert - until Valjean saves his life. The intricate plot has many twists and turns including a romance between Marius and Cosette, and the unrequited love of Eponine.
It includes some haunting scores including "Who Am I?," "A Little Fall of Rain," "One Day More," "Bring Him Home" and "I Dreamed a Dream."
THIS TOUR ENDED ON 14TH FEBRUARY 2023