PEPPA PIG'S BIG SPLASH TOUR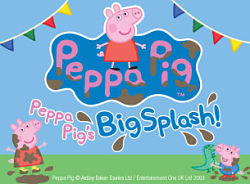 Peppa Pig is on tour again with her brand new show Peppa Pig's Big Splash.
Come and join Peppa and her friends for another all-singing, all-dancing adventure full of songs, games and muddy puddles!
The nursery roof is leaking and Peppa and her friends need to fix it - quick! As they set up a fete to raise the money for the repairs, they'll need your help to make sure everything goes smoothly.
Join Peppa, George, Mummy and Daddy Pig, as well as Danny Dog, Pedro Pony and Suzy Sheep as they have fun putting up bunting, running stalls and organising a great day out. There's also a Champion Puddle Jumping competition judged by Mr Potato where everyone gets wet and Peppa needs to find her Golden Boots!
The cast are Emma Grace Arends, Victoria Corlass, Kerry Gooderson, Lindsay Harding Evie James, Ryan Kirwan, David Sandham and Luke Spencer.