WAITRESS MUSICAL TOUR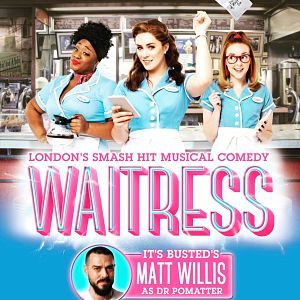 Sara Bareilles and Jessie Nelson's Tony-nominated musical Waitress had its UK premiere in March at the Adelphi Theatre where it is due  play its final performance at the Adelphi Theatre on 4th  July 2020 Following the end of the West End season the musical is due to embark on a UK tour opening at The Alhambra Theatre, Bradford, on 1st May 2021. Full casting is to be announced soon.
The musical is currently running on Broadway and is based on the 2007 film of the same name written by Adrienne Shelly. It tells the story of Jenna Hunterson, a waitress and expert pie maker who dreams of a way out of her small town and loveless marriage and abusive relationship with her husband Earl. When Jenna unexpectedly becomes pregnant she begins an affair with her gynaecologist Dr Jim Pomatter. Looking for ways out she sees a pie contest and its grand prize as her chance.
Inspired by Adrienne Shelly's film, WAITRESS tells the story of Jenna, A baking contest in a nearby county and the town's new doctor may offer her a chance at a fresh start, while her fellow waitresses offer their own recipes for happiness. But Jenna must summon the strength and courage to rebuild her own life.
The musical opened on Broadway in March 2016 with Jessie Mueller as the lead character. It went on to be nominated for four Tony Awards and six Drama Desk Awards, as well as a Grammy Award.
The UK production has an all-female creative team with direction by Diane Paulus (Pippin) and choreography by Lorin Latarro (Les Liaisons Dangereuses).
Below are the RESCHEDULED tour dates we have so far with more to follow.
| | | |
| --- | --- | --- |
| Bradford Alhambra | 1-8 May 2021 | |
| Birmingham Hippodrome | 11-15 May | |
| Ipswich Regent | 17-22 May | Buy tickets |
| Southampton Mayflower | 25-29 May | |
| Liverpool Empire | 31 May-5 June | |
| Woking New Victoria | 7-12 June | |
| Nottingham Royal Concert Hall | 14-19 June | |
| Glasgow King's | 21-26 June | |
| Bristol Hippodrome | 29 June – 3 July | |
| Plymouth Theatre Royal | 5-10 July | |
| Oxford New | 12-17 July | |
| Cardiff Millennium Centre | 9 -14 August | |
| Wolverhampton Grand | 23 -28 August | |
| Leeds Grand | 31 August- 4 September | |
| Southend Cliffs | 7-11 September | |
| Norwich Theatre Royal | 13-18 September | |
| Crawley Hawth | 20-25 September | |
| Milton Keynes | 4-9 October | |
| Wimbledon New | 11-16 October | |
| Eastbourne Congress | 18-23 October | |
| Sunderland Empire | 25-30 October | |
| Brighton Theatre Royal | 1-6 November | |
| Manchester Opera House | 8-20 November | |
| Aberdeen His Majesty's | 23-27 November | |
| Stoke Regent | 29 November – 5 December | |
| Northampton Royal & Derngate | 10-15 January 2022 | |
| Edinburgh Playhouse | 18-22 January | |
| Leicester Curve | 24-29 January | |
| Hull New | 31 January-5 February | |
| Bromley Churchill | 21-26 February | |
| Belfast Opera House | 1-5 March | on sale soon |
| Newcastle Theatre Royal | 8-12 March | |
| Torquay Princess | 14-19 March | |
| Llandudno Venue Cymru | 28 March-2 April | |