THE DRIFTERS GIRL TOUR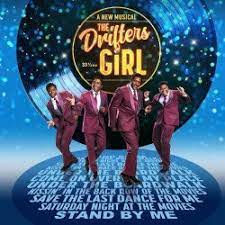 The Drifters Girl is a new musical which tells  the remarkable story of THE DRIFTERS, one of the world's greatest vocal groups, and the truth about the woman who made them.It was running at London´s Garrick Theatre to 15th October with a tour due to start at the Mayflower Theatre in Southampton in September 2023 with more dates to follow. Carly Mercedes Dyer Six the Musical and Erma in Anything Goes, will play music industry change-maker, Faye Treadwell.
Carly will star alongside Ashford Campbell ( ITV's The X Factor The Risk and the The Drifters Girl West End company), Miles Anthony Daley (Tina Turner: The Musical, Aldwych Theatre; Choir of Man, Arts Theatre), Tarik Frimpong (The Wiz, Hope Mill Theatre; Aladdin, Prince Edward Theatre) and Dalton Harris, who won The X Factor in 2018., Jaydah Bell-Ricketts (A Little Princess, Royal Festival Hall; School Of Rock, Gillian Lynne Theatre) will play her first touring role as Girl.with Loren Anderson, Tre Copeland-Williams, Ethan Davis, Matthew Dawkins and Linseigh Green.
The show is all about Faye Treadwell, the legendary manager of THE DRIFTERS who was the world's first African American, female music manager and widow of the group's co-founder George Treadwell. Faye continued to manage the band after George's death in 1967 and fought for three decades to turn Atlantic Records' hottest vocal group into a global phenomenon. From the highs of hit records and sell out tours to the lows of legal battles and personal tragedy, THE DRIFTERS GIRL charts the trailblazing efforts of the world's first African American, female music manager and how she refused to ever give up on the group she loved. Thirty years, and hundreds of hit songs later, there is no doubt that Faye Treadwell was and always will be, The Drifters Girl. Further casting will be announced at a later date.
The Drifters Girl is produced by Michael Harrison and David Ian.with a book by Ed Curtis, based on an idea by Tina Treadwell. It will be directed by Jonathan Church, with set design by Anthony Ward, choreography by Karen Bruce, costume design by Fay Fullerton, orchestrations and musical supervision by Chris Egan lighting design by Ben Cracknell, sound design by Tom Marshall and video design by Andrzej Goulding. Associate Director is Tyrone Huntley and Associate Choreographer is Myles Brown.
With a  soundtrack of some of the most iconic songs in history, including SAVE THE LAST DANCE FOR ME, UNDER THE BOARDWALK, KISSIN' IN THE BACK ROW OF THE MOVIES, STAND BY ME, COME ON OVER TO MY PLACE and SATURDAY NIGHT AT THE MOVIES.
Below are the tour dates we have so far
| | | |
| --- | --- | --- |
| NORWICH Theatre Royal | September 19-23 | |
| SHEFFIELD Lyceum | September 26-30 | |
| BRADFORD Alhambra | October 3-7 | |
| MANCHESTER Opera House | October 10-14 | |
| CANTERBURY Marlowe | October 17-21 | |
| MILTON KEYNES Theatre | October 24-28 | |
| LEICESTER Curve | October 31-November 4 | |
| SOUTHEND Cliffs | November 7-11 | |
| NEWCASTLE Theatre Royal | November 14-18 | |
| WOKING New Victoria | November 21-25 | |
| DARTFORD Orchard | November 28-December 2 | |
| BRISTOL Hippodrome | 9 Jan - Sat 13 Jan 2024 | |
| STOKE Regent | 15-19 January | |
| LLANDUDNO Venue Cymru | 23-27 January | Buy tickets |
| DUBLIN Bord Gais | 30 Jan-3 Feb | |
| BELFAST GOH | 5-10 Feb | |
| PLYMOUTH Theatre Royal | 13-17 February | |
| NOTTINGHAM Theatre Royal | 19-24 February | |
| LIVERPOOL Empire | 27 Feb-2 March | |
| OXFORD New | 5-9 March | |
| HULL New | 12-16 March | |
| LEEDS Grand | 19- 23 March | |
| SUNDERLAND Empire | 26-30 March | |
| ABERDEEN His Majesty`s | 2-6 April | |
| GLASGOW King`s | 9-13 April | |
| BIRMINGHAM Hippodrome | 16-20 April | |
| BROMLEY Churchill | 22-27 April | |
| EDINBURGH Playhouse | 30 April-4 May | |
| CARDIFF WMC | 7-11 May | |