WHITE CHRISTMAS TOUR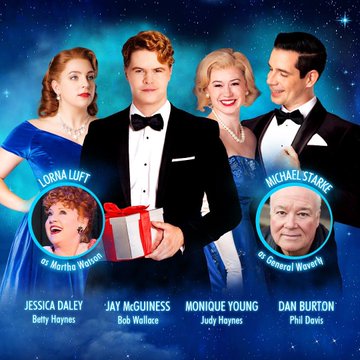 Irving Berlin`s musical White Christmas is to go on tour again this year.
Based on the original production by Leicester Curve artistic director Nikolai Foster, it is directed by Ian Talbot and choreographed by Stephen Mear. Set design is by Michael Taylor and costume design is by Diego Pitarch. Musical supervision is by Stephen Brooker, lighting design by Mark Henderson and sound design by Tom Marshall. Orchestrations are by Larry Blank with new musical arrangements by Jason Carr.
The musical, with book by David Ives and Paul Blake, is based on the 1954 film of the same name and features the iconic Irving Berlin song "White Christmas". It tells of two veterans who form a showbiz duo in the wake of the Second World War. Based on the 1954 American musical film Holiday Inn featuring the songs of Irving Berlin directed by Michael Curtiz and starring Bing Crosby, Danny Kaye, Rosemary Clooney, and Vera-Ellen.White Christmas features the classic songs Blue Skies, Sisters and the most famous festive song of all… White Christmas
Join veterans Bob Wallace (Jay McGuiness) and Phil Davis (Dan Burton) as fuelled by love, the all singing, all dancing duo follow the stunning Haynes Sisters, Betty & Judy (Jessica Daley & Monique Young), Lorna Luft as Martha Watson to a Vermont lodge for a special Christmas show. Their journey takes a misstep, and their rhythm is thrown off when they discover the lodge happens to be owned by Bob and Phil's old Army General Waveley (Michael Starke) and is in desperate need of their help.With Simon Anthony, Tom Bales, Lydia Bannister, George Beet, Imogen Bowtell, Isabel Canning, Gabrielle Cocca, Joseph Craig, Beth Devine, Steve Fortune, Ashton Harkness, Connor Hughes, Owen McHugh, Benjamin Mundy, James Revell, Sadie-Jean Shirley, Matthew Sweet, Lucy Warway, David Winters and Alex Wright.
THIS PRODUCTION ENDED ITS RUN ON 31ST DECEMBER 2022