FISHERMAN´S FRIENDS TOUR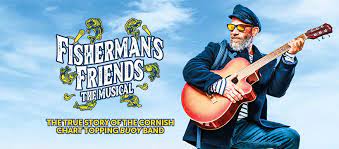 Fisherman's Friends: The Musical is about friendship, community and music based on the true story of the chart-topping Cornish singing sensations 'Fisherman's Friends', and the hit 2019 film about their life.
When a group of Cornish fisherman came together to sing the traditional working songs they'd sung for generations, they hoped to raise a few quid for charity. Nobody, least of all the fisherman, expected the story to end on the Pyramid stage of Glastonbury..
So climb aboard, set sail and feel the salty sea air rush through your hair with this brand new musical. Or better still, forget that emmet nonsense and pour yourself a pint and just start singing along.
Featuring hit shanties made famous by the band including Keep Haulin', Nelson's Blood, No Hopers Jokers & Rogues, Sweet Maid Of Madeira and many more.
Casting for the UK tour includes James Gaddas/Jim, Robert Duncan/Jago, Susan Penhaligon/Maggie, Parisa Shahmir/Alwyn , Anton Stephans/Leadville , Dan Buckley/Rowan, Rakesh Boury/Dinger, Matt Slack/Wiggie, Hadrian Delacey/Archie,  Calum Callaghan/Danny , Edward Rowe/Band Member, Deborah Tracey/Leah, Georgia Bruce/Sally and on-stage actor-musicians,  James William-Pattison, Annie Grace, John O'Mahony, Louise Beadel, Hazel Askew, Alfie Gidley, James Findlay.
The creative team: Director – James Grieve/Writer – Amanda Whittington/Choreographer – Matt Cole and Musical Supervisor – David White
THIS TOUR ENDED ON 20TH MAY 2023