TOUR OF CATS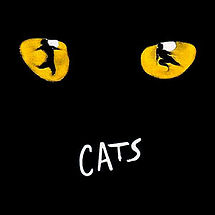 Andrew Lloyd Webber's Really Useful Group is mounting another tour of Cats at the beginning of netx year.
Cats the Musical was running at the London Palladium over Christmas starring Beverley Knight as Grizabella.
The touring cast includes  Anita Louise Combe as Grizabella.Marcquelle Ward as Rum Tum Tugger and Matt Krzan continues as Munkustrap. With  Kevin Stephen-Jones as Old Deutoronomy, Greg Castiglioni as Bustopher Jones/Asparagus/Growl Tiger, Shiv Rabheru as Quaxo/Mistoffelees, Joe Henry as Mungojerrie, Emily Langham as Rumpleteazer, Lee Greenaway as Skimbleshanks, Celia Graham as Jellyorum/Griddlebone, Rebecca Parker as Bombalurina, Helen Turner as Demeter, Lucinda Shaw as Jennyanydots, Sophia McAvoy as Victoria/White Cat, Phoebe Lewis as Jemima, Danielle Cato as Cassandra, Gabrielle Cocca as Tantomile, Enric Marimon as Carbucketty, James Titchener as Coricopat, Javier Cid as Macavity/Admetus, Josh Andrews as Alonzo/Rumpus and Aaron Hunt as Bill Bailey 
Completing the cast are Megan Armstrong, Alice Cornwell, Lucy Brushett, Oliver Ramsdale and Connor McAllister.
Adapted from T S Eliot's Old Possum's Book of Practical Cats, the action takes place on the night that the Jellicle Cats meet for the Jellicle Ball.
Cats first opened on the West End stage in 1981 and has become one of the world's best loved musicals. With a plot based on T S Eliot's Old Possum's Book of Practical Cats and award-winning music composed by Andrew Lloyd Webber it was originally directed by Trevor Nunn and has since been presented in over 20 countries and around 250 cities.
THE UK TOUR OF CATS THE MUSICAL ENDED ON 12TH NOVEMBER 2016. CLICK HERE FOR 2018/19 EUROPEAN TOUR DATES