BEE GEES STORY - YOU WIN AGAIN TOUR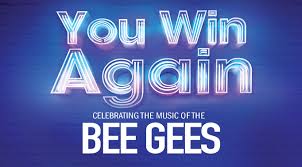 Direct from London's West End, You Win Again – Celebrating The Music of The Bee Gees ensures the Gibb brothers' legacy of classic hit songs is well and truly stayin' alive.
You Win tells the story of three brothers Barry, Robin and Maurice gibb, who from singing close harmony as children, grew to become world superstars by their early twenties. They went on to be acknowledged as some of the greatest song writers in history.

This concert takes you on a musical journey of the brothers' music through the sixties, seventies and eighties – performing hits they wrote for artists such as Celine Dion, Diana Ross and Dolly Parton including: Night Fever, Stayin' Alive, More Than A Woman, You Should Be Dancing, How Deep is Your Love?, Jive Talkin', Tragedy, Massachusetts, Words, I've Got to Get a Message to You, Too Much Heaven, Islands in the Stream, Grease and If I Can't Have You!