TITANIC THE MUSICAL TOUR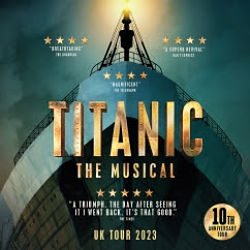 The Award-winning production Titanic the musical, first seen at Southwark Playhouse in 2013, and at the Charing Cross Theatre in 2016, is now to set sail on a UK and Ireland tour, opening in Southampton in April 2018 - the same city and same month in which the RMS Titanic set sail.
Based on real people on board the legendary ship, it tells the famous story of just before midnight on 14th April 1912, when the RMS Titanic, on her maiden voyage from Southampton to New York, collided with an iceberg and 'the unsinkable ship' slowly sank. It was one of the most tragic and infamous disasters of the 20th Century. 1517 men, women and children lost their lives.
Maury Yeston and Peter Stone's stunning musical focuses on their hopes and aspirations. Unaware of the fate that awaits them, the Third Class immigrants dream of a better life in America, the newly-enfranchised Second Class dream of achieving the lifestyles of the rich and famous, and the millionaire Barons of the First Class dream of their mastery lasting forever.

Titanic The Musical has music and lyrics by Maury Yeston (Nine, Grand Hotel, Phantom of Opera) and a book by Peter Stone (Woman of the Year and 1776). The pair have collectively won, including their previous works, an Academy Award, an Emmy Award, an Olivier Award and three Tony Awards for their works. The original Broadway production of Titanic The Musical won five Tony Awards, including Best Musical, Best Score and Best Book.
Below are the dates we have so far with casting news to follow shortly.
| | | |
| --- | --- | --- |
| Southampton Mayflower | 12-21 April 2018 | |
| Belfast Opera House | 24-28 April | |
| Cardiff Millennium Centre | 30 April-5 May | |
| Salford Lowry | 7-12 May | |
| Dublin Bord Gais | 14-19 May | |
| Sheffield Lyceum | 21-26 May | |
| Glasgow King's | 28 May-2 June | |
| Birmingham Hippodrome | 4-9 June | |
| Edinburgh Playhouse | 12-16 June | |
| Plymouth Theatre Royal | 18-23 June | |
| Northampton Royal & Derngate | 25-30 June | |
| Nottingham Theatre Royal | 2-7 July | |
| Blackpool Winter Gardens | 9-14 July | |
| Bromley Churchill | 16-21 July | |
| Liverpool Empire | 30 July-4 August | |