TITANIC THE MUSICAL TOUR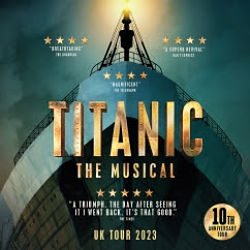 Maury Yeston and Peter Stone's Titanic the Musical is heading out on  a 10th anniversary UK tour kicking off at the Churchill Theatre in Bromley on 16th March 2023
The cast includes Martin Allanson (J Bruce Ismay), Valda Akiks (Ida Straus), Graham Bickley (Captain Edward Smith), Sam Brown (Frederick Fleet), James Darch (Edgar Beane), David Delve (Isidor Straus), Catherine Digges (Head Maid), Adam Filipe (Frederick Barrett), Emily George (Kate Murphy), Luke Harley (Andrew Latimer), Emma Harrold (Lady Caroline Neville), Alastair Hill (Harold Bride), Abi Hudson (Maid), Barnaby Hughes (Herbert Pitman/Henry Etches), Paul Kemble (Joseph Boxhall), Niamh Long (Kate Mullins), Matthew McDonald (Charles Clarke), Ian McLarnon (Thomas Andrews), Danny Michaels (Joseph Bell), Chris Nevin (Jim Farrell), Jack North (Charles Lightoller), Joseph Peacock (Bellboy/Wallace Hartley), Billy Roberts (William McMaster Murdoch), Bree Smith (Alice Beane) and Lucie-Mae Sumner (Kate McGowan).
Directed by Thom Southerland and produced by Danielle Tarento, Steven M Levy and Vaughan Williams in association with Southampton's Mayflower Theatre, the piece explores the lives and aspirations of the passengers and crew onboard, when the Titanic infamously sank on 15 April 1912 and over 1,500 lives were lost. The original Broadway production took home five Tony Awards including Best Musical.
The creative team will also include set and costume designer David Woodhead, lighting designer Howard Hudson, and sound designer Andrew Johnson, with musical staging by Cressida Carré and new musical arrangements by Ian Weinberger.
Below are the tour dates we have so far:
THIS TOUR ENDED ON 5TH AUGUST 2023