MAMMA MIA! TOUR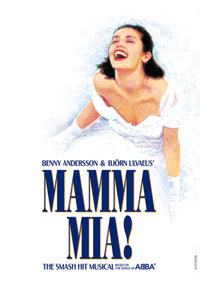 The international Tour of MAMMA MIA! have now rescheduled their dates to 2022/23 because of the COVID-19 situation .
Mamma Mia! is a real feel good musical featuring Abba's best known songs including The Winner Takes It All, Money, Money, Money, Dancing Queen, Chiquitita, Voulez Vous, SOS, Thank You for the Music, Knowing Me Knowing You, and Mamma Mia.
Through the songs of ABBA the story unfolds on a small Greek Island where  Donna, who is a feisty forty-something single mum (played by Meryl Streep in the film), relives memories of carefree days and careless nights. She has a daughter called Sophie who dreams of tradition, romance and a big white wedding.
Sophie is about to be married to Sky and wants her father to walk her down the aisle. But who is her father? Her mother won't tell her so Sophie reads her diary and discovers the name of three men who could possibly fit the bill. She secretly invites all three of them to the wedding and the fun starts when they arrive on the island and discover why they have been invited.
The 2022 tour cast is Sara Poyzer (Donna Sheridan), Nicky Swift (Rosie), Helen Anker (Tanya), Richard Standing (Sam Carmichael), Phil Corbitt (Bill Austin), Daniel Crowder (Harry Bright), Jena Pandya (Sophie Sheridan), Toby Miles (Sky), Jasmine Shen (Ali), Mariella Mazzilli (Lisa), James Willoughby Moore (Pepper), Corey Mitchell (Eddie) and Sarah Harlington (Alternate Donna Sheridan).
Completing the cast are Taylor Bridges, Ambra Caserotti, Martin Dickinson, Billy Downes, Chloe Gentles, Rachel Ivy, Luke Jasztal, Matt Kennedy, Lewis Kidd, Robert Knight, Hollie Nelson, Natasha O'Brien, Phoebe Roberts, Blair Robertson, Kaine Ruddach, Amy Thiroff and Cameron Vear.
Casting for the 2023 dates in Wolverhampton, Manchester, Cardiff, Blackpool and Leeds will be announced in due course.
To date, it has been seen by over 65 million people in 50 productions in 16 different languages. In 2011 it became the first Western musical ever to be staged in Mandarin in the People's Republic of China. MAMMA MIA! became the 8th longest running show in Broadway history where it played a record-breaking run for 14 years. MAMMA MIA! continues to thrill audiences in London's West End at the Novello Theatre where it celebrated its 20th Anniversary on 6 April 2019.
Produced by Judy Craymer, MAMMA MIA! The Movie became the highest grossing live action musical film of all time upon its release in 2008. A second film, MAMMA MIA! HERE WE GO AGAIN, opened in July 2018 and is the most successful live musical movie sequel of all time.
Written by Catherine Johnson, Music by: Benny Andersson / Bjorn Ulvaeus and directed by Phyllida Lloyd.
Below are the LATEST RESCHEDULED DATES
| | | |
| --- | --- | --- |
| Llandudno Venue Cymru | 27 September - 1 October | |
| Norwich Theatre Royal | 4 - 22 October | |
| Sheffield Lyceum | 24 October - 5 November | |
| Belfast GOH | 8 - 26 November | |
| Oxford New | 6 - 31 December | |
| Wolverhampton Grand | 17 - 28 January 2023 | |
| Manchester Opera House | 31 January - 11 February | Buy tickets |
| Cardiff New | 14 February - 4 March | |
| Blackpool Winter Gardens | 21 March - 1 April | |
| Leeds Grand | 4-15 April | |
The show is also running at the Novello Theatre in the West End