MAMMA MIA! TOUR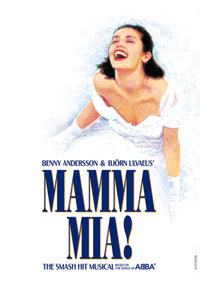 The international Tour of MAMMA MIA! have now announced their 2023 dates.
Mamma Mia! is a real feel good musical featuring Abba's best known songs including The Winner Takes It All, Money, Money, Money, Dancing Queen, Chiquitita, Voulez Vous, SOS, Thank You for the Music, Knowing Me Knowing You, and Mamma Mia.
Through the songs of ABBA the story unfolds on a small Greek Island where  Donna, who is a feisty forty-something single mum (played by Meryl Streep in the film), relives memories of carefree days and careless nights. She has a daughter called Sophie who dreams of tradition, romance and a big white wedding.
Sophie is about to be married to Sky and wants her father to walk her down the aisle. But who is her father? Her mother won't tell her so Sophie reads her diary and discovers the name of three men who could possibly fit the bill. She secretly invites all three of them to the wedding and the fun starts when they arrive on the island and discover why they have been invited.
The 2023 tour cast includes Sara Poyzer (Donna Sheridan), Nicky Swift (Rosie/Alternate Donna Sheridan), Sarah Earnshaw (Tanya), Richard Standing (Sam Carmichael), Neal Craig (Harry Bright), Phil Corbitt (Bill Austin), Jess Michelmore (Sophie Sheridan), Christopher Foley (Sky), Tanisha Butterfield (Ali), Freya Humberstone (Lisa), Jaden Oshenye (Pepper), Archie Flynn (Eddie) and Andrew Bateup (Father Alexander).
Further casting includes Clàudia Bahrani, Alice Baker, Peter Camilleri, Henryk Firth, Andrew Gallo, Claire Greenway, Ashleigh Harvey, Ashleigh Jones, Matt Kennedy, Robert Knight, Grace May, Hollie Nelson, Ashley Rowe, Nathen Scott, Marissa Sims and Lucy Walsham.
.To date, it has been seen by over 65 million people in 50 productions in 16 different languages. In 2011 it became the first Western musical ever to be staged in Mandarin in the People's Republic of China. MAMMA MIA! became the 8th longest running show in Broadway history where it played a record-breaking run for 14 years. MAMMA MIA! continues to thrill audiences in London's West End at the Novello Theatre where it celebrated its 20th Anniversary on 6 April 2019.
Produced by Judy Craymer, MAMMA MIA! The Movie became the highest grossing live action musical film of all time upon its release in 2008. A second film, MAMMA MIA! HERE WE GO AGAIN, opened in July 2018 and is the most successful live musical movie sequel of all time.
Written by Catherine Johnson, Music by: Benny Andersson / Bjorn Ulvaeus and directed by Phyllida Lloyd.
THIS SHOW IS CURRENTLY ON AN INTERNATIONAL TOUR WITH NO NEW UK DATES YET ANNOUNCED
It is also running at the Novello Theatre in the West End