MAMMA MIA! TOUR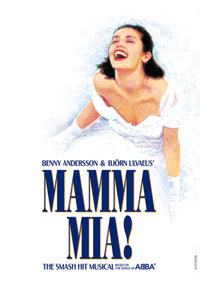 The first ever international Tour of MAMMA MIA! will take place from 2016! The first four UK venues have now been announced and tickets are on sale at some theatres.
Mamma Mia! is a real feel good musical featuring Abba's best known songs including The Winner Takes It All, Money, Money, Money, Dancing Queen, Chiquitita, Voulez Vous, SOS, Thank You for the Music, Knowing Me Knowing You, and Mamma Mia.
Through the songs of ABBA the story unfolds on a small Greek Island where  Donna, who is a feisty forty-something single mum (played by Meryl Streep in the film), relives memories of carefree days and careless nights. She has a daughter called Sophie who dreams of tradition, romance and a big white wedding.
Sophie is about to be married to Sky and wants her father to walk her down the aisle. But who is her father? Her mother won't tell her so Sophie reads her diary and discovers the name of three men who could possibly fit the bill. She secretly invites all three of them to the wedding and the fun starts when they arrive on the island and discover why they have been invited.
The international tour cast is Lucy May Barker/Sophie Sheridan: Micha Richardson/Ali: Blaise Colangelo/Lisa: Emma Clifford/Tanya: Jacqueline Braun/Rosie: Sara Poyzer/Donna Sheridan:Phillip Ryan/Sky:Louis Stockil/Pepper:Sam Robinson /Eddie: Tim Walton/Harry Bright: Christopher Hollis / Bill Austin: Richard Standing/Sam Carmichael: Matthew Ronchetti/Father Alexander / Jenna Lee James/Alternate Donna/ with ensemble members Jacob Fisher, Jennifer Harding, Stuart Hickey, Linda Holmgren, Rachel Ivy, Matthew Kennedy/Dance Captain, Georgie Leatherland, Mark Peachey, David Ribi, Ellie Rutherford/Assistant Dance Captain, Michael James Stewart, Hannah Varnham, Rhodri Watkins, Dawn Williams, Jamie Wilkin - Assistant Choreographer/Dance Captain and swing Parisa Shahmir.
Cast Changes from 31st May 2018: Shona White will star as (Donna Sheridan) with Nicky Swift (Rosie), Helen Anker (Tanya), Tamlyn Henderson (Sam Carmichael), Daniel Crowder (Harry Bright), Matthew Rutherford (Bill Austin), Lucy May Barker (Sophie Sheridan), Phillip Ryan (Sky), Leisha Mollyneaux (Ali), Lottie Henshall (Lisa), Matt Jordan-Pidgeon (Pepper) and Michael Nelson (Eddie). At certain performances the role of Donna Sheridan will be played by Natalie Langston.


Completing the cast are Tom Bainbridge, Devon Braithwaite, Ambra Caserotti, Áine Curran, Martin Dickinson, Tilly Ford, Courtney George, Sarah Harlington, Samuel Hawkins, Luke Jasztal, Matt Kennedy, Stacey Leanne Mills, Hollie Nelson, Matthew Ronchetti, Ellie Rutherford, Jaydon Vijn and Jamie Wilkin.
Written by Catherine Johnson, Music by: Benny Andersson / Bjorn Ulvaeus and directed by Phyllida Lloyd.
Below are the tour dates we have so far with more to come.
| | | |
| --- | --- | --- |
| Hull New | 31 May - 3 June | |
| Portsmouth King's | 8-23 June | |
| Aylesbury Waterside | 26-30 June | |
| Manchester Palace | 3-14 July | |
The show is also running at the Novello Theatre in the West End