NEWSIES THE MUSICAL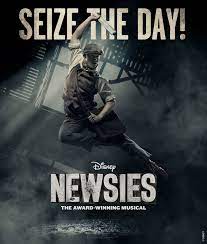 Newsies the Musical  is heading for London in 2022 for an "innovative and brand new immersive production" at Troubadour Wembley Park Theatre wih
its official opening night on 8th December 2022. Preview performances will begin on 29th November and the booking period has been extended to 30 July 2023
The much-loved musical, about a group of news boys and inspired by the real-life Newsboys Strike of 1899.is set in turn-of-the century New York City, Newsies is the rousing tale of Jack Kelly, a charismatic newsboy and leader of a band of teenaged "newsies." When titans of publishing raise distribution prices at the newsboys' expense, Jack rallies newsies from across the city to strike against the unfair conditions and fight for what's right!.It had its stage premiere at the Paper Mill Playhouse in 2011 and made its Broadway debut in 2012, but has yet to be seen professionally in the UK – though an acclaimed ArtsEd production was led by Jac Yarrow.
It has been confirmed that "an all new London edition" of the show will be running at  the Troubadour Wembley Park Theatre with music by Alan Menken, lyrics by Jack Feldman, and a book by Harvey Fierstein – which is in turn based on Bob Tzudiker and Noni White's screenplay.
Leading the show will be Michael Ahomka-Lindsay (Legally Blonde) as Jack Kelly, alongside Bronté Barbé (What's New, Pussycat?) as Katherine Plumber.
Listed in alphabetical order, also appearing are Moya Angela as Medda Larkin, Lindsay Atherton as Ensemble, Samuel Bailey as Specs, Imogen Bailey as Swing, Josh Barnett as Race, Cameron Blakely as Joseph Pulitzer, Jack Bromage as Tommy Boy, Bobbie Chambers as Ensemble, Alex Christian as Buttons, Arcangelo Ciulla as Ike, George Crawford as Morris Delancey, Ross Dawes as Snyder, Joshua Denyer as Mush, Ross Dorrington as Splasher, Matthew Duckett as Crutchie, Kamilla Fernandes as Ensemble and Jacob Fisher as Albert.
Also cast are Jamie Golding as Wiesel, Damon Gould as Finch, Zack Guest as Swing, Jordan Isaac as Swing, Alex James-Hatton as Oscar Delancey, Clarice Julianda as Ensemble, Barry Keenan as Nunzio, Ryan Kopel as Davey, Sion Lloyd as Bunsen George Michaelides as Romeo, Mukeni Nel as Jo Jo, Joshua Nkemdilim as Elmer, Mark Samaras as Mike, Bradley Trevethan as Swing, Matt Trevorrow as Henry and Lillie-Pearl Wildman as Ensemble.
The role of Les will be played by Nesim Adnan, Haydn Court, Oliver Gordon and Ethan Sokontwe.
Featuring the now classic songs "Carrying the Banner," "Seize the Day," and "Santa Fe," Newsies is packed with non-stop thrills and a timeless message, perfect for the whole family and every audience.
THIS PRODUCTION ENDED ITS RUN ON 30 JULY 2023