THE COMMITMENTS TOUR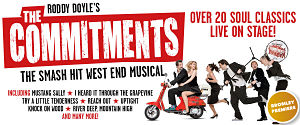 Roddy Doyle's Booker prize winning novel The Commitments had its world premiere at the Palace Theatre in London's West End last September and is now going on tour starting in Dublin in October 2016 and continues into 2017.
The show has been more than two years in the making and  has been adapted from the novel by Doyle himself. It tells the story of working class lad Jimmy Rabbitte who pulls together an unlikely bunch of amateur musicians and friends to become the finest soul band Dublin has ever produced.
Jimmy puts an ad in the newspaper and auditions a number of wannabes before forming  The Commitments. The musical takes you through the early stages of the band getting to know each other and their instruments, through early rehearsals to their first gig.
But just as they begin to get a name for themselves the backing singers are all getting off with the middle aged horn legend, the singer has entered Eurovision and the saxophone player starts  leaning towards a jazz career.
Brian Gilligan is reprising his performance , having played the role in the West End. He will appear alongside West End cast member Andrew Linnie as Jimmy Rabbitte.
Coronation Street's Kevin Kennedy will star as Jimmy's Da. The Commitmentettes will be played by sisters Amy Penston (Natalie) and Leah Penston (Imelda), alongside Christina Tedders (Bernie).
The cast will also include Peter Mooney (Derek), Padraig Dooney (Dean), Sam Fordham (Mickah) and John Currivan (Billy). They will be joined by Rhys Whitfield (James), Alex McMorran (Joey) and Christian James (Outspan).
THIS TOUR ENDED ON 13TH MAY 2017