GREATEST DAYS - TAKE THAT MUSICAL TOUR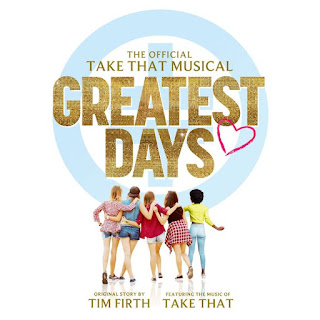 To coincide with  the release of the new Take That film Greatest Days, comes the announcement of a new musical tour of the same name which is going on the road. The musical stars Jennifer Eliisonand Olivia Hallett as Rachel and Young Rachel. They will be joined byTaylor Alman, Holly Ashton, Hannah Brown, Kalifa Burton, Benjamin Cameron, Jamie Corner, Archie Durrant, Regan Gascoigne, Kitty Harris, Bayley Hart, Keith Henderson, Karen Holmes, Christopher D. Hunt, Evangeline Jarvis Jones, Rachel Marwood, Mari McGinlay, Jamie-Rose Monk, Mary Moore, Alexanda O'Reilly, Charlotte Anne Steen and Alan Stocks.

Based on the tale of a group of friends who reunite to see their favourite boy band performing live, the new production will mark 30 years since Take That's first UK number one single: "Pray". It features 15 of the band`s greatest hits.
Originally produced in 2017 as The Band by David Pugh, Daffyd Rogers and Take That, that version also being staged in the West End.
The new tour is  produced by Adam Kenwright and will open on 5th May in Bromley - with additional dates still to be announced.
The show is written by Tim Firth, with co-direction by Stacey Haynes and Tim Firth, choreography by Aaron Renfree, set and costume design by Lucy Osborne, lighting design by Rob Casey, sound design by Tony Gayle, casting by David Grindrod Burton Casting, musical supervision by John Donovan, and costume supervision by Martin Rodges. .
this tour ended on 25th November 2023