STRICTLY BALLROOM TOUR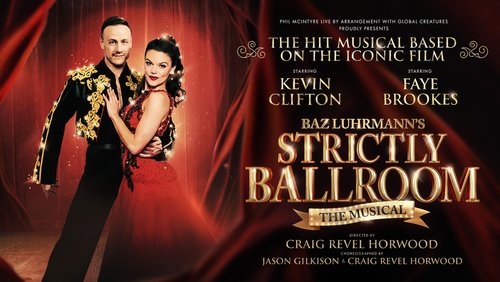 The 2020 tour of the Strictly Ballroom musical has been postponed and will now open in Portsmouth at the end of September 2022 with tour dates running through to July 2023.
Strictly Ballroom the musical had its UK premiere at London's Piccadilly Theatre in 2018 and is now heading out on an extensive tour of the UK and Ireland in 2020/21. Opening in Nottingham in September 2020, the show will star strictly come dancing professional Kevin Clifton as Scott Hastings. The musical is directed by dancer, choreographer, theatre director and TV Judge, Craig Revel Horwood.
It tells the story of Scott Hastings, a competitive ballroom dancer in '80s Australia who makes up his own moves and finds himself aggravating ballroom-purists. He follows his heart to, not only find his true calling in dance, but also find his true love featuring hit songs from the film including "Love Is in the Air" by John Paul Young, "Perhaps Perhaps Perhaps" by Doris Day, and a version of Cyndi Lauper's "Time After Time.
The musical is based on Based on Luhrmann's 1992 film, which was about a short play he wrote while he was a student at the National Institute of Dramatic Arts in Sydney in the '80s. After an expanded version of the play was a success at Sydney's Wharf Theatre, Luhrmann was approached to turn it into a film. The writer agreed, on the condition he could direct the movie, and it was Luhrmann's first film. It went on to be one of the highest grossing Australian films of all time.
Below are the new resheduled tour dates with more still to be announced.
Portsmouth Kings Theatre

26 September-1 October

2022

Bromley Churchill

3-8 October

Sunderland Empire

10-15 October

Liverpool Empire

17-22 October

Llandudno Venue Cymru

24-29 October

Birmingham Hippodrome

31 October - 5 November

New Wimbledon Theatre

7-12 November

Darlington Hippodrome

14-19 November

Blackpool Opera House

21-26 November

Peterborough New Theatre

28 November-3 December

Sheffield City Hall

8-13 December

Guildford G Live

20-31 December

Ipswich Regent

Reading The Hexagon

16-21 January

Wales Millennium Centre

23-28 January

Plymouth Theatre Royal

30 January-4 February

Wolverhampton Grand Theatre

13-18 February

Southampton Mayflower

20-25 February

Northampton Royal & Derngate

27 February-4 March

Hull New

6-11 March

Canterbury Marlowe

13-18 March

Southend Cliffs

20-25 March

Bradford Alhambra Theatre

27 March-1 April

Milton Keynes Theatre

3-8 April

Norwich Theatre Royal

10-15 April

Bournemouth Pavilion

17-22 April

York Grand Opera House

24-29 April

Newcastle Theatre Royal

1-6 May

Edinburgh Playhouse

8-13 May

Aberdeen Performing Arts

15-20 May

Derry Millenium Forum Theatre

22-27 May

Glasgow Theatre Royal

5-10 June

Bristol Hippodrome

12-17 June

Nottingham Theatre Royal

19-24 June

Salford Lowry

26 June - 1 July

Leeds Grand

3-8 July

Aylesbury Waterside

10-15 July