STRICTLY BALLROOM TOUR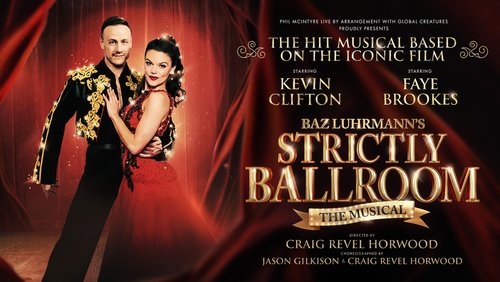 Strictly Ballroom the musical had its UK premiere at London's Piccadilly Theatre in 2018 and is now heading out on an extensive tour of the UK and Ireland. The show will star strictly come dancing professional Kevin Clifton as Scott Hastings with Coronation Street's Faye Brooks co-starring in the lead female role of Fran. They will be joined by Nikki Belsher/Shirley Hastings, Mark Sangster/Doug Hastings, Gary Davis/Barry Fife, Quinn Patrick/Les Kendall, Oliver Brooks/JJ Silvers, Jose Agudo/Rico, Karen Mann/Abuela, Maddy Ambus/Liz, Benjamin Harrold/Ken, Jessica Vaux/Charm, Danielle Cato/Tina Sparkle, Kieran Cooper/Wayne, Agnes Pure/Vanessa, Adam Davidson/Nathan and Poppy Blackledge/ Pam, alongside ensemble members Liv Alexander, Edwin Ray, Stuart Rouse and Hollie Jane Stephens and on stage swings Michelle Buckley and Stylianos Thomadakis.The musical is directed by dancer, choreographer, theatre director and TV Judge, Craig Revel Horwood.
It tells the story of Scott Hastings, a competitive ballroom dancer in '80s Australia who makes up his own moves and finds himself aggravating ballroom-purists. He follows his heart to, not only find his true calling in dance, but also find his true love featuring hit songs from the film including "Love Is in the Air" by John Paul Young, "Perhaps Perhaps Perhaps" by Doris Day, and a version of Cyndi Lauper's "Time After Time.
The musical is based on Based on Luhrmann's 1992 film, which was about a short play he wrote while he was a student at the National Institute of Dramatic Arts in Sydney in the '80s. After an expanded version of the play was a success at Sydney's Wharf Theatre, Luhrmann was approached to turn it into a film. The writer agreed, on the condition he could direct the movie, and it was Luhrmann's first film. It went on to be one of the highest grossing Australian films of all time.
This tour ended on 15th July 2023