BUGSY MALONE TOUR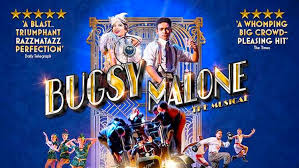 Alan Parker's world-famous movie which launched the careers of Jodie Foster and Scott Baio, is going on tour for the first time in this revival of the universally acclaimed Lyric Hammersmith Theatre production. Packed with instantly recognisable songs from Oscar winner Paul Williams including My Name is Tallulah, You Give A Little Love and Fat Sam's Grand Slam, Bugsy Malone is a masterclass of musical comedy!rohibition era, New York. A city full of mobsters, showgirls and dreamers. Rival gangster bosses Fat Sam and Dandy Dan are at loggerheads. The custard pies are flying and Dandy Dan's gang has gotten the upper hand since obtaining the new-fangled "splurge" gun. Now, Fat Sam and his bumbling buffoons are in real trouble!
Enter Bugsy Malone, a penniless one-time boxer and all-round nice guy. All Bugsy really wants to do is spend time with his new love, Blousey, but will he be able to resist seductive songstress Tallulah and stay out of trouble long enough to help Fat Sam to defend his business...?
The lead roles will be performed by three young casts of seven in rotation. Bugsy Malone will be played by Shaun Sharma, Gabriel Payne and Amar Blackman, Blousey Brown by Mia Lakha, Delilah Bennett-Cardy and Avive Williams, Fat Sam by Albie Snelson, Isham Sankoh and Charlie Burns, Tallulah by Taziva-Faye Katsande, Jasmine Sakyiama and Fayth Ifil, Fizzy by Aidan Oti, Jamie Northey-Dennis and one performer yet to be announced, Lena/Babyface by Cherry Mitra, Kayla-Mai Alvares and Ava Hope Smith and Dandy Dan by Rayhaan Kufuor-Gray, Kit Cranston and Desmond Cole.
They are joined by adult ensemble members: Georgia Pemberton, Alisha Capon, Lucy Young, D'Mia Lindsay Walker, Jessica Daugrida, Alicia Ally, Alicia Belgarde, Esme Bacalla-Hayes, Luchia Moss, Kalifa Burton, Rory Fraser, Andile Mabhena, Thomas Walton, Ru Fisher, Mohamed Bangura, Marcus Billany, Luke Mills and Will Lucas.
Below are the tour dates we have so far with more to follow

THIS TOUR ENDED ON 19TH FEBRUARY 2023