SISTER ACT THE MUSICAL TOUR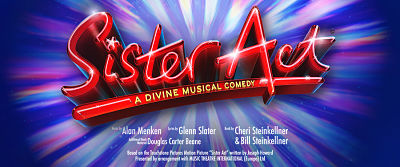 Strictly Come Dancing's Craig Revel Horwood has been starring as Miss Hannigan in a tour of Annie the Musical. This year he is to direct and choreograph a new touring production of the musical Sister Act which will be produced by Jamie Wilson and  open at Leicester Curve  next July
The show will have musical supervision by Sarah Travis.It has music by Alan Menken, lyrics by Glenn Slater and a book by Cheri and Bill Steinkellner. Additional book material is by Douglas Carter Beane.Sister Act is a musical comedy based on the film of the same name starring Whoopi Goldberg.  Since the screen version the action has been moved from 1990's Reno and San Francisco to 1970's Philadelphia.  This gives Glenn Slater and Alan Menken's score an authentic disco flavour and rousing gospel sound that made the film such a hit.
When nightclub & disco diva Deloris Van Cartier (played by Alexandra Burke) witnesses her boyfriend shooting someone she is put in protective custody in the one place the police are sure no one will look for her in a convent!  She dresses as a nun calling herself Sister Mary Clarence and finds it hard to accept the rigid lifestyle and the uptight Mother Superior.
By using her disco dance moves and singing talent to inspire the tuneless nuns' choir, Deloris breathes new life into the church and community, but blows her cover. Soon the crooks are after her but find themselves up against the new reformed Deloris and the power of her Sisterhood.
Alexandra Burke is playing Deloris Van Cartier which is the role made famous by Whoopi Goldberg in the film and played by Patina Miller in London and on Broadway and Cynthia Erivo on the last UK tour . She will be joined by Joanna Francis as 'Michelle', Joe Vetch as Eddie Souther, Karen Mann as 'Mother Superior' and Liz Kitchen as 'Sister Mary Lazarus'. Alexandra Burke will perform the role of 'Deloris Van Cartier' at evening performances. At the matinee performances, the role of 'Deloris Van Cartier' will be played by Joanna Francis.
Aaron Lee Lambert will play 'Curtis', Sarah Goggin 'Sister Mary Robert', Susannah Van Den Berg 'Sister Mary Patrick', Allison Harding 'Sister Mary Theresa', Ricky Rojas 'Pablo', Samuel Morgan-Grahame as 'Joey' and Sandy Grigelis as 'TJ'. The company also includes Nicola Bryan, Jennifer Douglas, Aiesha Pease, Sally Peerless, Lewis Cochrane and Justin Wilman.
Music by Oscar winner Alan Menken, and Lyrics by Glenn Slater.  Book by Cheri & Bill Steinkellner. 

NB: ALEXANDRA BURKE WILL NOT BE PERFORMING AS 'DELORIS VAN CARTIER' AT ANY MATINEE PERFORMANCES when the role will be played by Joanna Francis

THIS TOUR ENDED ITS RUN ON SUNDAY 3RD SEPTEMBER 2017