ALADDIN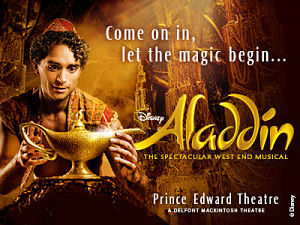 Disney's Tony Award-winning new musical Aladdin stars Matthew Croke as Aladdin, Jade Ewen as Princess Jasmine and Broadway cast member Trevor Dion Nicholas will be making his London stage debut as Genie.
They will be joined by Don Gallagher (Priscilla Queen of the Desert, Sweeney Todd) as Jafar, Nick Cavaliere as Iago, Irvine Iqbal (Bend It Like Beckham) as Sultan, Daniel de Bourg is Kassim, Miles Barrow as Omar and Leon Craig as Babkak.

The cast will be completed by Stephen Rahman-Hughes, Miles Barrow, Seng Henk Goh, MeKade Ferraiolo, Michelle Chantelle Hopewell, Fred Johanson, Thierry Picaut, Alex Pinder, Briony Scarlett, Sadie-Jean Shirley, Katie Singh, Dawnita Smith, Marsha Songcome, Arran Anzani-Jones, Albey Brookes, Lauren Chia, Bianca Cordice, Cavin Cornwall, Melanie Elizabeth, Kade Ferraiolo, Antony Hewitt, Mitch Leow, Oliver Lidert, Ian Oswald, Kyle Seeley, Sadie-Jean Shirley, Ricardo Spriggs, Kayleigh Thadani and Jermaine Woods.
Cast changes from Monday 4th June: Fourteen new cast members will join the West End production of Aladdin, which is about to celebrate its second birthday at the Prince Edward Theatre.

Joining current cast members Matthew Croke (Aladdin), Jade Ewen (Jasmine), Trevor Dion Nicholas (Genie), Leon Craig (Babkak), Irvine Iqbal (Sultan) and Daniel de Bourg (Kassim) will be Fred Johanson  as Jafar and Julian Capolei  as Omar. Jermaine Woods will take on the role of Iago, having previously covered the role.

The full 2018/19 cast will include Koko Basigara, Robertina Bonano, Danny Becker, Angeline Bell, Bianca Cordice, Abigail Climer, Leon Craig, Daniel de Bourg, Nolan Edwards, Melanie Elizabeth, Nordine Ezzahr, Antony Hewitt, Irvine Iqbal, Blythe Jandoo, Abigail Johnson, Travis Kerry, Dann Kharsa, Victoria Layzell, Mitch Leow, Oliver Lidert, Phil Mennell, Richard Murphy, Ian Oswald, Tarisha Rommick, Kyle Seeley, Dominic Sibanda, Ricardo Spriggs, Joshua Steel, Kevin Stephen-Jones, Kayleigh Thandani, Justin Thomas, Damien Winchester and Niko Wirachman.
Disney's Aladdin features all the favorite songs from the film as well as new music written by Tony and Academy Award® winner Alan Menken (Newsies) with lyrics penned by the legendary Howard Ashman (Beauty and the Beast), Tony Award winner Tim Rice (The Lion King, Aida), and book writer Chad Beguelin (The Wedding Singer).
Buy tickets for Aladdin which is booking to 1st December 2018.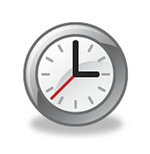 Monday-Saturday 7:30 pm. Matinees on Thursday & Saturday at 2:30 pm Running time TBC
HOW TO GET TO ALADDIN
Prince Edward Theatre
Old Compton Street,
London, W1D 4HS

Click on map to enlarge image
Tubes :  Leicester Square (300m) Tottenham Court Road (400m)
Train:  Charing Cross (550m)

3, 6, 9, 12, 13, 14, 15, 19, 22, 23, 38, 88, 94, 139, 159, 453

Parking: Meters at Soho Square (200m). Master Park at China Town and Poland Street.This theatre participates in the Theatreland Parking Scheme - find out more about the great discounts offered by clicking on the link.
DISABLED ACCESS TO ALADDIN
| | |
| --- | --- |
| | Get headsets from the Access attendant for a £5 refundable deposit. |
| | Two guide dogs are permitted inside the auditorium |
| | Entrance to the auditorium through a double EXIT door opening outwards on Greek Street, then up a very short ramp to Box 1 where there are 2 spaces for wheelchair users and 2 companions. Transfer seating is available to row A. |
| | Adapted toilet on right-hand side of foyer. You need to go out of the exit on Greek Street and back to the foyer entrance on Old Compton Street. |