DIRTY DANCING TOUR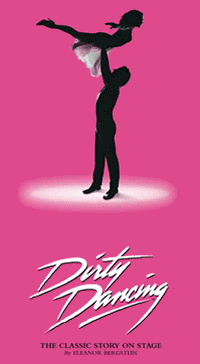 Dirty Dancing is set in the the summer of 1963, and tells the story of 17 year old Frances "Baby" Houseman and how she learns some major lessons in life and a thing or two about dancing!
While on holiday in New York's Catskill Mountains with her parent Baby shows no interest in the resort activities, until she stumbles across a staff party and catches sight of Johnny Castle the resort dance instructor (originally played by Patrick Swayze in the film of the same name).
In this new tour Michael O'Reilly will star as Johnny Castle with Kira Malou as Frances "Baby" Houseman and Carlie Milner as Penny Johnson. They are joined by: Lynden Edwards as Dr Jake Housman, Jackie Morrison as Marjorie Houseman, Lizzie Ottley as Lisa Houseman, Samuel Bailey as Billy Kostecki, Michael Remick as Max Kellerman, Thomas Sutcliffe as Neil Kellerman, Colin Charles as Tito Suarez, Mark Faith as Mr Schumacher, Amber Sylvia Edwards as Elizabeth and Austin Wilks/swing and resident choreographer.
The ensemble will include Camilla Rowland, Danielle Lockwood, Marie Finlayson, James McHugh, Benjamin Harrold, Rishard-Kyro Nelson, Patricia Wilkins, Charlotte Olliffe, and Lee Nicholson alongside actor musicians Miles Russell, Ben Mabberley and Tom Mussell.
Baby's life changes forever as she is thrown in at the deep end as Johnny's leading lady both on and off stage.
Dirty Dancing is a fabulous musical journey with some incredible dance routines. It has no less than 35 songs, including "Hungry Eyes", "Hey Baby", "Do You Love Me?" and the classic "I've Had The Time Of My Life."
Produced by Karl Sydow, Joye Entertainment and Paul Elliott, in association with Lionsgate and Magic HourProductions, and written by Eleanor Bergstein, script writer of the phenomenally successful 1987 film, the production features the much-loved characters and original dialogue from the iconic film, with exciting extra scenes added in.
THIS TOUR ENDED ON 18TH DECEMBER 2921