DIRTY DANCING TOUR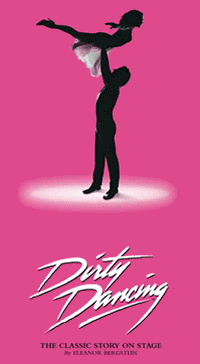 Dirty Dancing is set in the the summer of 1963, and tells the story of 17 year old Frances "Baby" Houseman and how she learns some major lessons in life and a a thing or two about dancing!
While on holiday in New York's Catskill Mountains with her parent Baby shows no interest in the resort activities, until she stumbles across a staff party and catches sight of Johnny Castle the resort dance instructor (originally played by Patrick Swayze in the film of the same name).
Baby's life changes forever as she is thrown in at the deep end as Johnny's leading lady both on and off stage.
Dirty Dancing is a fabulous musical journey with some incredible dance routines. It has no less than 35 songs, including "Hungry Eyes", "Hey Baby", "Do You Love Me?" and the classic "I've Had The Time Of My Life."
Produced by Karl Sydow, Joye Entertainment and Paul Elliott, in association with Lionsgate and Magic HourProductions, and written by Eleanor Bergstein, script writer of the phenomenally successful 1987 film, theproduction features the much-loved characters and original dialogue from the iconic film, with exciting extra scenes added in.
This all new production has a creative team featuring director Federico Bellone and choreographer Gillian Bruce, with a design re-imagined by top Italian set designer Roberto Cometti.
Lewis Griffiths will star as 'Johnny Castle', he has most recently played Nick Massi on the UK tour of Jersey Boys. Other roles in UK tours include Ghost and Legally Blonde, and West End credits include Priscilla Queen of the Desert, Rent and Whistle Down the Wind.
Katie Hartland will make her professional musical theatre debut as she takes on the role of 'Baby Houseman', having graduated from the Royal Central School of Speech and Drama in 2015.
Carlie Milner will star as 'Penny Johnson'. starting as a member of the ensemble in 2014, she covered and subsequently took over the role of 'Penny' in 2015.
The rest of the company: Julian Harries is Jake Houseman, Simone Craddock is Marjorie Houseman, Roger Martin is Max Kellerman, Jo Servi/Tito Suarez, Lizzie Ottley as Lisa Houseman, Michael Kent/Billy Kostecki with Greg Fossard/Neil Kellerman Tony Stansfield/Mr Schumacher, and Daniela Dobega/Elizabeth. Also joining the company are Gabby Antrobus, Imogen Brooke, Simon Campbell, Robert Colvin, Katie Eccles, Beth Highsted, Megan Louch, Ashley Rumble, Callum Sterling, Austin Wilks and Karl James Wilson who is the Alternate 'Johnny Castle'
THIS TOUR ENDED IS RUN ON 23RD SEPTEMBER 2017