THE OVERTONES CHRISTMAS TOUR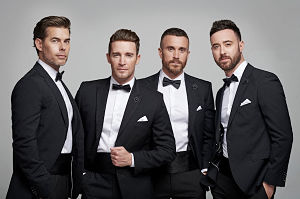 The Overtones band (Mark Franks, Lockie Chapman, Mike Crawshaw and Darren Everest) will release a new album in Autumn 2018 and complete a tour of the UK in tribute to the late Timmy Matley. They had been due to go on tour in summer 2018 - but it was pushed back following the tragic death of bandmate Timmy Matley.
Since their debut single 'Good Ol' Fashioned Love' in 2010 , the group has sold over a million records. Teaming up, once again, with producer Julian Hinton and engineer Simon Bloor, the album – a collection of thoughtfully chosen covers and originals - is a tribute to Timmy, a celebration of everything that the group has achieved together, a thank you to their loyal and supportive fans and a statement of intent for the future.
"We are really proud of the new album and all it represents. Yes there are obviously songs for reflection and even sadness but there are also songs to put a smile on your face and get you up dancing. There's a big mix of feelings and moods in this album which was certainly a challenge to express but we're so proud of what we've achieved. This album means the world to us and we want it to mean something to the listener too."
THIS TOUR ENDED ON 20TH DECEMBER 2018