SINGIN' IN THE RAIN TOUR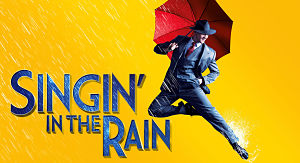 Following a successful run at Sadler's Wells, Singin`in Rain is to tour again.
Leading the tour is Sam Lips as Don Lockwood (West Side Story, Strictly Ballroom), Charlotte Gooch (Strictly Ballroom) as aspiring actress Kathy Selden, Ross McLaren (Sleepless) as the wisecracking Cosmo Brown and Jenny Gayner (The Girls) as silver-screen siren Lina Lamont.
There will be also guest appearances from cast members who have played roles before:
• Adam Cooper (Swan Lake) will take on the role of Don Lockwood in Woking, Manchester, Glasgow and Plymouth
• Faye Tozer (Everybody's Talking About Jamie) will star as Lina Lamont in Canterbury, Woking, Milton Keynes, Edinburgh and Newcastle
• Kevin Clifton (Rock of Ages) will play Cosmo Brown in Bristol, Cardiff, Southampton, Liverpool and Glasgow
Further casting includes Sandra Dickinson, who will appear as Dora Bailey, Michael Matus as Roscoe Dexter and Imogen Brooke as Zelda Zanders. The ensemble features Briana Craig, Alastair Crosswell, Lavinia Fitzpatrick, Alex Given, Ryan Gover, Ashleigh Graham, Thomas Inge, Robin Kent, Joshua Lovell, George Lyons, Amonik Melaco, Ashleigh Morris, Peter Nash, Dale Rapley, Molly Rees-Howe, Harriet Samuel-Gray, Heather Scott-Martin, Megan Speirs, Ben Whitnall, and Ellie May Wilson.
Singin' in the Rain was a 1952 American comedy musical film offering a comic depiction of Hollywood, and its transition from silent films to talkies. Don Lockwood is a silent movies star with fame, adulation and a convenient much publicised romance with his co-star Lina Lamont. But Hollywood is about to change forever and there is rumour in the studio of a new kind of film, where the actors actually talk, sing and dance
Singin' in the Rain is the story of that first Hollywood musical when the silver screen found its voice. Its classic score features Make 'em Laugh, Good Morning, Moses Supposes and Singin' in the Rain.
.Andrew Wright's high-energy choreography and Simon Higlett's set design (including over 14,000 litres of water on stage every night) combine with the charm, romance and wit of one of the world's best- loved films. Singin' in the Rain features the glorious MGM score including Good Morning, Make 'em Laugh, Moses Supposes and the legendary Singin' in the Rain.
THIS TOUR ENDED ITS RUN ON 27TH AUGUST 2022