SINGIN' IN THE RAIN TOUR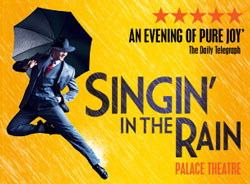 The Chichester Festival Theatre production of Singin' in the Rain has been playing in London's West End and is now on a UK tour.
Singin' in the Rain was a 1952 American comedy musical film offering a comic depiction of Hollywood, and its transition from silent films to talkies. Don Lockwood is a silent movies star with fame, adulation and a convenient much publicised romance with his co-star Lina Lamont. But Hollywood is about to change forever and there is rumour in the studio of a new kind of film, where the actors actually talk, sing and dance
Singin' in the Rain is the story of that first Hollywood musical when the silver screen found its voice. Its classic score features Make 'em Laugh, Good Morning, Moses Supposes and Singin' in the Rain.
It is based on the MGM film. Screenplay and adaptation by Betty Comden and Adolph Green. Songs by Nacio Herb Brown and Arthur Freed.
Maxwell Caulfield is studio boss R F Simpson and he will join Coronation Street's Vicky Binns (late Molly Dobbs wife of Tyrone) who will be playing Lina Lamont. James Leece is Don Lockwood, Amy Ellen Richardson is Kathy Selden and Stephane Anelli will be reprising the role of Cosmo he played in London. They will be joined by Jacqueline Clarke as Miss Dinsmore/Dora Bailey, Paul Grunert as Roscoe Dexter and ensemble members Luke Dowling, Jenny Legg, Kim Strommen, Abigail Brodie, Adam Denman, Rebecca Fennelly, Olivia Fines, Lauren Hall, Aimee Hodnett. Nia Jermin, Sammy Kelly, Joshua Lovell, Matthew Malthouse, Philip Marriott, Tom Partridge and Tom Woods with swings Albey Brookes, Matt Crandon, Lucy James and Soeli Parry.
THIS TOUR ENDED ON 4TH OCTOBER 2014