NATIVITY THE MUSICAL TOUR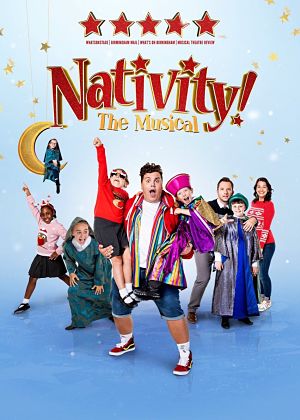 Following the success of the first tour, which ended on 6th January 2018, the producers Jamie Wilson, Entertainment One (eOne), Ramin Sabi, Belgrade Theatre Coventry and Birmingham Repertory Theatre, have decided to tour Nativity! the musical again later this year.
Nativity! The Musical is written and directed by Debbie Isitt -  creator and director of the films, with music and lyrics by Nicky Ager and Isitt, Nativity! It will be choreographed by Andrew Wright, designed by David Woodhead, with lighting design by Tim Mitchell, sound design by Tom Marshall and musical supervision and orchestrations by George Dyer.
The Nativity! film series began in 2009 with a cast including including Martin Freeman, David Tennant and Catherine Tate. It is one of the most popular UK Christmas recent film franchises:  Nativity! Nativity 2 Danger in the Manger! and Nativity 3 Dude Where's My Donkey? have all gone on to reach top box office positions on theatrical release and sold nearly 2 million DVDs.
The producers of the smash-hit 'NATIVITY! THE MUSICAL',  have announced the return of Simon Lipkin as the hilarious 'Mr Poppy' after delighting critics and audiences in the show last year. He will play the role for the entire run opening at The Belgrade Theatre, Coventry on 23 October and finishing at the Eventim Apollo in London on 31 December.
Scott Garnham will play Mr Maddens and Ashleigh Gray will play Jennifer Lore with Andy Brady as Gordon Shakespeare. Joining them will be Andy Barke, , Jamie Chapman, Jemma Churchill, Gary Davis, Kade Ferraiolo, Ashleigh Graham, Helena Pipe and Oscar Conlon-Morrey
Adam Thomas will  play the role of 'Hollywood Producer' in Liverpool, Milton Keynes and Stoke/ Charlie Brooks will play the role in Nottingham and Jake Wood  in Oxford. Eastenders star Danny Dyer is playing the part in London while comedian Jo Brand is the critic in London and Edinburgh Festival Theatare. . Love Island's Dani Dyer will play Polly Parker in London.
The children's cast is made up of: St Bernadette's Green Team: Aminata Bakayoko  , Tommy Gallagher, Ben Lee , Celie Newman , Lyla Peters, Angeli Sagala , Niamh Brady , Alexander Hogg , Harry Martin , Gerald Ngwenya  and  Katelyn-Janet Rollason and St Bernadette's Purple Team: Evie Bennell-Low ,Joseph Duffy , Marlie Love , Jasmine McKenna , Kheiri Isaac Osmani , Nicholas Vakis , Demi Delord , Betsy Jiggins , Joshua Millard-Lloyd, Amy-Louise Mulhall and Aston Sidwell.
| | | |
| --- | --- | --- |
| Nottingham Theatre Royal @@ | 21-25 November | |
| Edinburgh Festival Theatre ## | 28 November-2 December | |
| Stoke Regent $$ | 5-8 December | |
| Oxford New %% | 11-15 December | |
| LONDON Eventim Apollo Hammersmith çç ## ¿¿ | 19-31 December | |
$$Adam Thomas will  play the role of 'Hollywood Producer' in Liverpool and Stoke
@@Charlie Brooks will play the role in Nottingham
&& Jane McCarry in Glasgow
%%Jake Wood  in Oxford
çç Danny Dyer playing the part in London

##Jo Brand playing the Critic
¿¿ Dani Dyer playing Polly Parker