FAME THE MUSICAL TOUR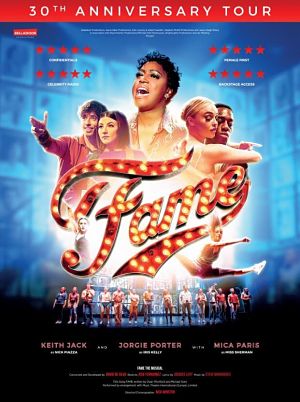 Fame - The Musical is to embark on a new 30th Anniversary UK tour starting in July at Manchester.
Fame will be presented by Selladoor Worldwide, producers of Footloose, Avenue Q , Little Shop of Horrors and Flashdance - The Musical, with Adam Paulden & Dan Looney.
The cast will include Keith Jack as Nick Piazza until 16th Jun 2019: Mica Paris as Miss Sherman and Jorgie Porter as Iris Kelly until 2nd December 2018. They will be joined by Hayley Johnston/Mabel, Stephanie Rojas/Carmen, Molly McGuire/Serena, Jamal Crawford/Tyrone, Albey Brooks/Joe, Louisa Beadel/Lambchops, Simon Anthony/Schlomo, Alexander Zane/Goody, Katie Warsop/Miss Bell & Resident Choreographer, Dermot Canavan/Mr Scheinkopf, Cameron Johnson/Mr Myers with ensemble members  Rebecca French, Daisy Twells, Tom Mussell, Morgan Jackson, Ryan Kayode and swings Tabitha Camburn  and Ike Fallon. 
Fame the Musical will be directed and choreographed by Nick Winston with design by Morgan Large.
Based on the 1980 phenomenal pop culture film, Fame The Musical is the international smash hit sensation following the lives of students at New York's High School For The Performing Arts as they navigate their way through the highs and lows, the romances and the heartbreaks and the ultimate elation of life. This bittersweet but uplifting triumph of a show explores the issues that confront many young people today: prejudice, identity, pride, literacy, sexuality, substance abuse and perseverance.
Fame the Musical has seen seven West End runs since opening on Broadway in 1988 and continues to be one of the best loved musicals across the world.
Below are the tour dates we have so far with more to follow.

| | | |
| --- | --- | --- |
| Venue | Dates | |
| Aberdeen His Majesty's | 10-15 September | |
| Cardiff New | 24-29 September | |
| Woking New Vicoria | 1-6 October | |
| Sheffield Lyceum | 8-13 October | |
| Bridlington Spa | 15-20 October | |
| Edinburgh King's | 22-27 October | |
| Ipswich Regent | 29 October-3 November | |
| Brighton Theatre Royal | 5-10 November | |
| Birmingham New Alexandra | 19-24 November | |
| Aylesbury Waterside | 26 November-1 December | |
| Cheltenham Everyman | 21-26 January | on sale soon |
| Shrewsbury Theatre Severn | 28 January-2 February 2019 | |
| Oxford New | 13-16 February | |
| Wimbledon New | 18-23 February | |
| Inverness Eden Court | 25 February-2 March | |
| York Opera House | 4-9 March | |
| Liverpool Empire | 11-16 March | |
| Grimsby Auditorium | 25-30 March | |
| Swansea Grand | 1-6 April | Buy tickets |
| Sunderland Empire | 8-13 April | |
| Stoke Regent | 15-20 April | |
| Bristol Hippodrome | 10-15 June | |
| Milton Keynes Theatre | 24-29 June | |
| Torquay Princess | 1-6 July | |
| Wirral Floral Pavilion | 15-20 July | |
| Canterbury Marlowe | 12-17 August | |
| LONDON Peacock Theatre %% | 11 September - 19 October | 24/9:1/10 |
%% star cast to be announced