HAIRSPRAY TOUR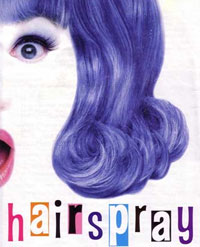 Following the last successful tour which ended in May 2016, Hairspray the musical will embark on another major UK tour presented by Mark Goucher Productions beginning at the end of summer 2017 until spring 2018.
Hairspray is based on the 1988 film comedy. The musical takes place in 1962 with Baltimore's Tracy Turnblad (a large girl with big hair and a large heart) who wants to dance.
She wins a spot on the 'The Corny Collins Show' which is a local television programme, and overnight becomes a teenage celebrity. But can she overthrow the programme's reigning princess Amber Von Tussle, whose overbearing mother produces the show.
They are both excited about a Corny Collins Spectacular: Live from the Eventorium, sponsored by Ultra Clutch Hairspray. The girl on the show who gets the highest popularity rating will be crowned Miss Teenage Hairspray - and Amber wants that crown.
The catchy score of Hairspray (including "You Can't Stop the Beat") takes Tracy from the sound stage of a 60's dance show to the streets of Baltimore and on to a downtown rhythm and blues record shop.
Comedian Norman Pace will play Wilbur Turnblad with Matt Rixon (The Ladykillers, Around the World in 80 Days) reprising the role of Edna Turnblad with Layton Williams as Seweed and Brenda Edwards (Chicago) as Motormouth Maybelle.
Rebecca Mendoza will make her professional debut as Tracy Turnblad. She will be joined by Jon Tsouras as Corny Collins, Edward Chitticks)(On the Town, Mamma Mia) as Link Larkin;  Gina Murray as Velma Von Tussle, Aimee Moore as Amber Von Tussle; Annalise Liard-Bailey as Penny Pingleton with Raquel Jones (The Bodyguard) as Little Inez with  Lauren Concannon, Melissa Nettleford and Emily-Mae Walker as The Dynamites, Shay Barclay, Ben Darcy, George Hinson, Jordan Laviniere, Lindsay McAllister, Tracey Penn and Freya Rowley.
Cast changes from 12th June: Raquel Jones (The Bodyguard, Jesus Christ Superstar) will be returning to the role of Lil' Inez having played the part for two years during the West End run . Shak Gabbidon-Williams will be making his professional debut as Seaweed and Dan Partridge takes over the role of Link Larkin. Graham MacDuff  plays the role of Wilbur Turnblad alongside Gemma Lawson as Amber Von Tussle with Rosie O'Hare in the lead role of Tracy Turnblad.

Brenda Edwards will continue as Motormouth Maybelle alongside Matt Rixon as Edna Turnblad. Jon Tsouras will stay on as Corny Collins with Gina Murray as Velma Von Tussle and Annalise Liard-Bailey as Penny Pingleton.

Further cast includes: Adam Price, Lucinda Lawrence, Marion Fagbemi, Brianna Ogunbawo, Amana Jones, Emma Warren, Kirsty Ingram, Courtney Brogan Smalley, Ross Clifton, Ben Darcy, Brian O'Muiri, Ziggy Tyler Taylor, Abz Kareem, Reece Richards, Shay Barclay, Abiola Efunshile and Lindsay McAllister.
The show will be directed by Paul Kerryson with choreography by Drew McOnie, Ben Atkinson is Musical Director and Re-orchetrations, Ben Harrison is sound designer and Philip Gladwell is Lighting Designer with set design by Paul Moore and costumes by Takis.
| | | |
| --- | --- | --- |
| Wycombe Swan | 21-26 May | |
| Stoke Regent Theatre | 11-16 June | |
| Oxford New Theatre | 18-23 June | |
| Newcastle Theatre Royal | 25-30 June | |
| Eastbourne Devonshire Park | 2-7 July | |
| Dublin Bord GAis | 9-14 July | |
| York Grand Opera House | 16-21 July | |
| Swansea Grand | 23-28 July | |
| Bournemouth Pavilion | 30 July-4 August | |