THRILLER LIVE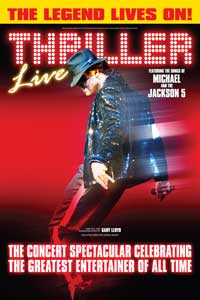 Thriller Live is based on the music and life of Michael Jackson featuring  classic songs played by a great band and a variety of singers playing Michael Jackson through all stages of his career.  Songs include I Want You Back, I'll Be There, Show You The Way To Go, Can You Feel It, Rock With You, She's Out Of My Life, Beat It, Billie Jean, Earth Song, Thriller … plus many more.
Peter Andre returned to guest star in Thriller Live in  West End's Lyric Theatre for a two-week season from December 10th-22nd. He was the  first in a series of guest stars that mark the show's final six months at the theatre as it ends its record-breaking 11-year run on 26th April 2020 for the venue to be refurbished. The musical will have completed 4,705 performances, making it the longest running show ever at the theatre and the 11th longest running musical in West End history.
The musical has new video content and the addition of iconic Michael Jackson songs "Earth Song" and "History".

Thriller Live begins in the early days of Michael's career and takes you through his time in The Jackson 5. The second act deals with the singer's later career as a solo artist, using large screens to show cartoons, films and backdrops during the performances.
Click on the image above to reserve your tickets for Thriller Live online
Smooth Criminal is set  in a Chicago speakeasy:  all flapper dresses and trilby hats. Remember the Time has an Egyptian theme. Man in the Mirror  plays to a video montage of Jackson's changing face and there's plenty of  moonwalking.
The cast includes Kieran Alleyne, Charlotte Berry, Wayne Anthony-Cole, Vivienne Ekwulugo, Haydon Eshun, David Julien, Jonah Mayor, John Moabi, Stefan Sinclair, Swing & Resident Director: Aisling Duffy, Swing, Dance Captain and Vocalist: Florivaldo Mossi, Daniel Blessing, Ebony Clarke, Filippo Coffano, David Devyne, Joel Ekperigin, Vivian Gayle, Eliza Hart, Leona Lawrenson, Mari Macleod, Simone Moncada, Oskarina O'Sullivan, Zinzile Tshuma, Matt Vjestica, Triple Calz, Isaiah Mason, Xhanti Mbonzongwana, Christian Posso and Jay-Jay Prince
The choreography is spectacular, especially for the later songs when Michael Jackson produced his world famous dance moves and routines. Adrian Grant Executive Director/Co-Producer & Gary Lloyd - Director & Choreographer
You can reserve tickets for Thriller Live here which is booking to 26th April 2020 with plans in hand to move it to another London Theatre while Nimax Theatres refurbish the Lyric.
There is also a new 12 month international tour of Thriller Live next year which is currently on sale.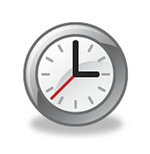 Tuesday-Friday & Sunday evenings at 19:30: Saturday at 20:00/matinees on Saturday at 16:00 and Sunday at 15:30 Length of show: 2 hours 30 minutes (including interval)
HOW TO GET TO THRILLER LIVE
Lyric Theatre
Shaftesbury Avenue
London, W1D 7ES
| | |
| --- | --- |
| | Tube : Piccadilly Circus (Bakerloo, Piccadilly) |
| | 14, 19, 22B, 38, 53, 88, 94, 159 |
| | Poland Street and China Town. This theatre participates in the Theatreland Parking Scheme - find out more about the great discounts offered by clicking on the link. |
DISABLED ACCESS TO THRILLER LIVE
| | |
| --- | --- |
| | Sennheiser infra-red system with 5 headsets |
| | Two guide dogs are welcome in the auditorium or staff will dog-sit. |
| | Entrance is through the left-hand double EXIT door (Royal Entrance) as you face the theatre. Level access to Boxes E, D and C. Boxes C and D can accommodate 1 scooter or wheelchair plus guest. Box E can accommodate 1 scooter or wheelchair plus 2 guests or 2 scooters or 2 wheelchairs. Transfer seating available to Dress Circle (up 6 steps from Royal Entrance). |
| | Adapted toilet on the left inside the Royal entrance in the Royal Retiring Room. |