JOSEPH AND THE AMAZING TECHNICOLOR DREAMCOAT TOUR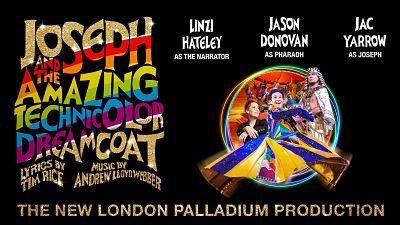 The London Palladium production of Joseph and the Amazing Technicolor Dreamcoat is confirmed to go on a tour of the UK next year.
Casting news so far is that Alexandra Burke and Linzi Hateley will return as The Narrator playing select venues until 10th September, with Jac Yarrow in his Olivier Award-nominated role as Joseph, and Jason Donovan who is set to return as Pharaoh at selected venues as shown below. The role of Pharaoh will be played by Bobby Windebank (was part of the 2021 company when the show played the season at the London Palladium.) will play the role at the venues across the tour where Jason Donovan does not perform.
The full company includes Erica Jayne Alden, Shane Antony-whitely, Natalie Bennyworth, Jabari Braham, Ben Brooker, Gemma Buckingham, Thalia Burt, Meg Darcy, Alexander Day, Tyler Ephraim, Iván Fernández González, Zac Frieze, Matt Gibson, Will Hawksworth, Samuel John-Humphreys, Claire Lander, Abbie Platts, Nathan Rigg, Rochelle Sherona, Samantha Shuma, Sam Stones and Holly Willock.
The young actors are Tommy Adams, Ava Belle Alexander, Hector Baldwin, Kelsey Balla, Zach Bent, Dylan Brooks, Mei Chiu, Esme Connolly, Hettie Connolly, Bryson Dekker, Phoebe Easom, Jax Fenner, Luca Foster-LeJeune, Max Garlick, Lola Green, Bella Harding, Luke Jury, Mateo Lechea, Naomi Lim, Ocean Monilal, Toryn O'Callaghan, Matilda O'Sullivan, Blythe Railton, Roxy Relf, Holly-Jade Roberts, Eden Rowe, Nandini Sharma, Poppy Mei Soon, Halle Stevens, Joshua Wahab, Buddy Way, Lili Whitehouse.
Laurence O'Connor will direct with JoAnn M Hunter providing choreography, and set and costume design by Morgan Large.
Joseph and the Amazing Technicolor Dreamcoat has become one of the world's most iconic musicals. Told entirely through song with the help of the Narrator, the show follows the story of Jacob's favourite son Joseph and his 11 brothers.
After being sold into slavery by the brothers, he ingratiates himself with Egyptian noble Potiphar, but ends up in jail after refusing the advances of Potiphar's wife. While imprisoned, Joseph discovers his ability to interpret dreams, and he soon finds himself in front of the mighty but troubled showman, the Pharaoh. As Joseph strives to resolve Egypt's famine, he becomes Pharaoh's right-hand man and eventually reunites with his family. This magical musical is full of unforgettable songs including Any Dream Will Do, Close Every Door To Me and One More Angel.
THIS TOUR ENDED ITS RUN ON 29TH OCTOBER 2022