JOSEPH & THE AMAZING TECHNICOLOR DREAMCOAT TOUR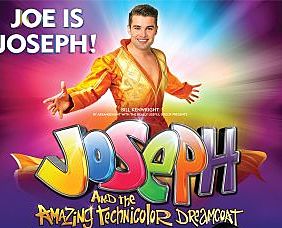 Joseph & the Amazing Technicolor Dreamcoat is Tim Rice and Andrew Lloyd Webber's great family musical filled with non-stop action, laughter and fun that will delight theatregoers of all ages.
Having received some great reviews, Bill Kenwright's "Amazing," "Superb," "Wonderful" and "Brilliant" production of Tim Rice and Andrew Lloyd Webber's family musical continues to enjoy huge success across the country with standing ovations at every performance.
Retelling the Biblical story of Joseph, his eleven brothers and the coat of many colours, this magical musical is full of unforgettable songs including Any Dream Will Do, Close Every Door To Me and One More Angel.
X Factor winner Joe McElderry will again play Joseph with  Benjamin James-Ellis who was a semi-finalist on the hit TV show Any Dream Will Do as Pharoah. Since then Ben has starred in a European tour of Dirty Dancing, and as Link Larkin in the West End run of Hairspray for two years. The cast is completed by Trina Hill (Narrator); Henry Metcalfe (Jacob/Potiphar); Sallie-Beth Lawless (Mrs Potiphar/Handmaiden); Matt Jolly (Brother/Frenchman); Tatenda Madamombe (Brother/Calypso); Adam Strong (Brother/Understudy Pharoah); Joseph Peacock (Brother/Benjamin); Ben Beechey (Brother/One More Angel); Michael Lapham (Brother/Understudy Benjamin); Rob Wilshaw (Brother/Understudy Joseph); Craig Nash (Brother/Butler); Richard J Hunt (Brother/Baker); Will Breckin (Brother); Anna Campkin (Handmaiden/Understudy Narrator); Gemma Pipe (Handmaiden); and Kevin Grogan (ASM/Swing).
THIS TOUR ENDED ON 31ST DECEMBER 2017