JOSEPH & THE AMAZING TECHNICOLOR DREAMCOAT TOUR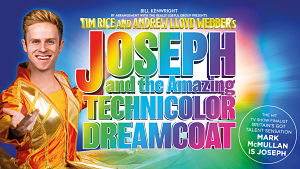 Tim Rice & Andrew Lloyd Webber's great family musical Joseph & the Amazing Technicolor Dreamcoat is touring again with Gary Lloyd providing some new choreography. It is filled with non-stop action, laughter and fun that will delight theatregoers of all ages.
The last tour ended in December 2017 and starred X Factor winner Joe McElderry as Joseph.
Britain's Got Talent runner up MarkMcMullan is playing the lead role . He will be joined by Alexandra Doar/ Narrator, Andrew Geater/ Pharaoh. James Head/Jacob George Beet/Napthali with brothers Matt Jolly, Callum Connolly, Alex Hetherington, Mikey Jay-Heath, Paul Brangan , Robert Bardsley, Richard J Hunt, Lovonne Richards and Tom Bainbridge, handmaidens Amber Kennedy, Charlotte Kate Warren , Gemma Pipe and swing Will Breckin
Retelling the Biblical story of Joseph, his eleven brothers and the coat of many colours, this magical musical is full of unforgettable songs including Any Dream Will Do, Close Every Door To Me and One More Angel.
Having received some great reviews, Bill Kenwright's "Amazing," "Superb," "Wonderful" and "Brilliant" production of Tim Rice and Andrew Lloyd Webber's musical continues to enjoy huge success across the country with standing ovations at every performance.
Below are the dates we have so far with more to follow.
| | | |
| --- | --- | --- |
| Billingham Forum | 12 – 18 November | |
| St Helen's Theatre Royal | 19 – 23 November | |
| Doncaster Dome | 18 December-4 January 2020 | |
| PETERBOROUGH Broadway | 7-11 January | |
| AYLESBURY Waterside | 14 – 18 January | |
| WIMBLEDON New | 21 – 25 January | |
| COVENTRY Belgrade | 28 January – 1 February | |
| BRADFORD Alhambra | 4-8 February | |
| CHESTERFIELD Winding Wheel | 11 – 15 February | |
| SUNDERLAND Empire | 18 – 22 February | |