HAIR THE MUSICAL TOUR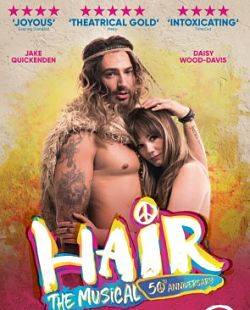 Following a highly successful run at the Hope Mill Theatre and in London's Vaults, the 50th-anniversary production Hair the Musical is to go on a new tour next spring directed by Jonathan O'Boyle (Pippin, Rain Man, Aspects Of Love), who is reunited with the creative team from Hope Mill Theatre: Gareth Bretherton (Musical Director), William Whelton (Choreographer), Maeve Black (Designer), Ben M Rogers (Lighting Designer), Calum Robinson (Sound Designer) and producers Katy Lipson for Aria Entertainment, Joseph Houston & William Whelton for Hope Mill Theatre, Ollie Rosenblatt for Senbla, and associate producer Guy James. The production will be cast by the previous BBC Head of Casting Jane Deitch.
Dancing on Ice champion Jake Quickenden will play  Berger; Hollyoaks actress Daisy Wood-Davis is Sheila and X Factor 2011 finalist Marcus Collins is Hud with Paul Wilkins/ Claude, Alison Arnopp/Jeanie. Bradley Judge/Woof,  Kelly Sweeney/Crissy, Tom Bales/Margaret Mead, Aiesha Naomi/Dionne, Natalie Green/Mom and ensemble members David Heywood,  Laura Sillett, Louise Francis and Spin.
The musical, which is written by Gerome Ragni, James Rado and Galt MacDermot,  tells the story of a country boy from Oklahoma who arrives in New York in the 1960s and falls in with a group of hippies called the Tribe. Their free love and drug-enhanced happiness is disrupted by his Vietnam draft orders.
Hair is a celebration of life, love and freedom, but with a passionate cry for hope and change featuring some of the greatest songs ever written for the stage with  a Grammy-winning score including the numbers "Aquarius", "Let the Sun Shine In", "I Got Life" and "Good Morning Starshine".
Below are the dates we have so far with more to follow:
| | | |
| --- | --- | --- |
| Portsmouth King's | 10-15 June | |
| Edinburgh Playhouse | 17-22 June | |
| Oxford New | 24-29 June | |
| Sheffield Lyceum | 1-6 July | on sale soon |
| Brighton Theatre Royal | 8-13 July | |
| Milton Keynes | 15-20 July | Buy tickets |
| Wolves Grand | 23-27 July | |
| Glasgow King's | 7-10 August | |