RIP IT UP THE 70s TOUR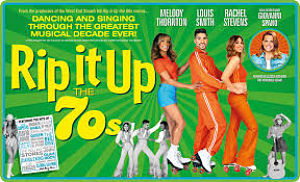 Following on from  the success of Rip It Up the 50s and 60s,  starring Harry Judd, Jay McGuiness, Aston Merrygold and Louis Smith, which sold over 100,000 tickets across the UK and enjoyed a four month sell-out run at the Garrick Theatre, London Rip It Up the 70s to tour the UK later this year to take on the iconic decade that spawned disco, glam rock and so much more.
The brand new show will star Strictly Come Dancing champion Louis Smith MBE, Strictly finalist Rachel Stevens and The Pussycat Dolls star Melody Thornton singing and dancing to some of the biggest classics from the decade. West End performer, JCS Arena tour and X Factor Finalist Giovanni Spano will be the front man for the band singing iconic numbers including Life On Mars, Tiny Dancer and Ballroom Blitz.
. It will tour the UK this September, October and into November where it currently ends at the London Palladium.
From David Bowie to Marc Bolan, through disco, soul and huge pop anthems, the 1970s saw the likes of Eagles release Hotel California, the Bee Gees' Saturday Night Fever and  Bruce Springsteen with Born to Run. The hugely influential songwriter and performer Carole King released Tapestry, Fleetwood Mac unleashed Rumours into the world, while the The Beatles dropped Let It Be as their frontman John Lennon revealed the stunning Imagine. The 1970s were responsible for the rise of Queen, Elton John, The Carpenters, Mavin Gaye, and Barry White, as Led Zeppelin climbed their Stairway to Heaven and Pink Floyd explored The Dark Side of the Moon.
THIS TOUR ENDED ON 6TH NOVEMBER 2019