VAMPIRES ROCK - THE GHOST TRAIN TOUR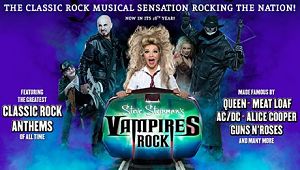 After 12 years and over a million tickets sold Steve Steinman returns as Barron Von Rockula in the all new Vampires Rock Saga The Ghost Train.
As Club Live and Let Die burns to the ground, Barron Von Rockula played By Steve Steinman flees the ill fated club with his band of blood sucking vampires in search of a new home. Eventually they come across an old abandoned fairground ride The Ghost Train where they take refuge and make this their new home. The Barron and his motley crew then set a cunning plan to lure victims into the ride and to live in Rock n Roll hell forever.
X Factor winner Sam Bailey is   due to take the role of the vampire queen for the 2019 tour.She  will be stepping into the shoes of  singer and actress Toyah Willcox who played the part for two years performing over 200 shows.
Sam will be joined on stage by creator and star of Vampires Rock Steve Steinman, plus a full cast of dancers, singers and musicians. For the past fifteen years Vampires Rock has played to more than a million people and has a growing army of fans who follow the show year after year as it tours in all the major theatres and concert halls country wide.
Along with Steve Steinman, is a full cast of singers, dancers and a formidable band blast their way through some of the greatest ever classic rock anthems including We Will Rock You, Bat Out of Hell, Sweet Child Of Mine, Total Eclipse of the Heart and many more!