PRINCE EDWARD THEATRE
Old Compton Street,
London, W1D 4HS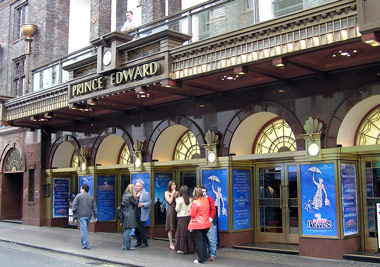 The Prince Edward Theatre opened in April 1930 and was named after the then Prince of Wales. It was designed by Edward A. Stone and built on a site which was formerly home to a century old drapers shop called The Emporium.
The exterior of the Prince Edward was designed in the style of an Italian Palace with the foyer in Art Deco design. The auditorium was built on just two levels, Stalls and Dress Circle and could seat 1,650 in comfort. It was also equipped for showing films, but was not successful and was eventually purchased for £25,000 and turned into a cabaret restaurant – The London Casino - in 1936.
The Prince Edward Theatre/London Casino went dark for two years after the war began but in 1942 it became a "Forces Theatre" presenting successful shows for radio broadcast. In 1946 the building was converted back to a theatre and became home to a number of variety productions. In 1954 it was converted to a cinema (The Casino Cinerama Theatre.) with London's first 65 feet curved Cinerama screen.

In 1974 Bernard Delfont took over the theatre and the London Casino was reborn again as a theatre and a cinema at a cost of £150,000. It opened with a production of the pantomime "Cinderella".
In 1978 the building was refurbished and converted back into just a theatre and renamed The Prince Edward Theatre. The first production was the phenomenally successful "Evita" by Tim Rice and Andrew Lloyd Webber which ran for nearly eight years.
In 1990 The Prince Edward was given a total makeover when Bernard Delfont and Cameron Mackintosh spent over £3million refurbishing it: making the stage deeper and wider, adding side boxes to the auditorium, improving the acoustics, lighting and stage facilities. It reopened in March 1993 with "Crazy for You", followed by a five year run of "Mamma Mia" followed by "Mary Poppins".

HOW TO GET TO THE PRINCE EDWARD THEATRE
Tubes :  Leicester Square (300m) Tottenham Court Road (400m)
Train:  Charing Cross (550m)

3, 6, 9, 12, 13, 14, 15, 19, 22, 23, 38, 88, 94, 139, 159, 453

Parking: Meters at Soho Square (200m). Master Park at China Town and Poland Street.This theatre participates in the Theatreland Parking Scheme - find out more about the great discounts offered by clicking on the link.
DISABLED ACCESS TO THE PRINCE EDWARD
| | |
| --- | --- |
| | Get headsets from the Access attendant for a £5 refundable deposit. |
| | Two guide dogs are permitted inside the auditorium |
| | Entrance to the auditorium through a double EXIT door opening outwards on Greek Street, then up a very short ramp to Box 1 where there are 2 spaces for wheelchair users and 2 companions. Transfer seating is available to row A. |
| | Adapted toilet on right-hand side of foyer. You need to go out of the exit on Greek Street and back to the foyer entrance on Old Compton Street. |