GREASE THE MUSICAL TOUR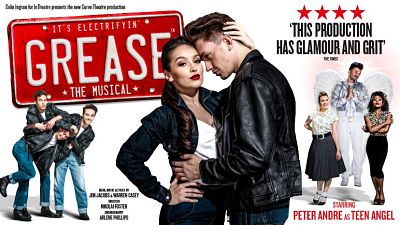 Grease the musical is going on a new UK tour in 2021. The Leicester Curve production of Jim Jacobs and Warren Casey's new touring production of the musical Grease will be directed by the  Curve's Nikolai Foster and choreographed by  Arlene Phillips.
Peter Andre is returning to the role of Teen Angel who appears at the dance at Rydell High School when he performs his big number  Beauty School Dropout on certain dates on the tour while also taking on two new roles of Vince Fontaine and the Sergeant. He is currently scheduled to perform at certain performances in Leicester, Plymouth, Canterbury, Nottingham, Milton Keynes, Woking, Dartford, Bristol, Edinburgh, Manchester, Birmingham, Southampton, Liverpool and Cardiff.He will be joined by Dan Partridge who will be reprising the role of Danny, having played the role on the UK and Ireland tour in 2019. Georgia Louise will play Sandy, with Paul French as Kenickie and Tendai Rinomhota as Rizzo.
With Alex Christian as Doody, Josh Barnett as Roger, Inez Budd as Marty, Maeve Byrne as Jan, Marianna Neofitou as Frenchy, Corinna Powlesland as Miss Lynch and Cristian Zaccarini as Sonny.
Also in the cast are Alishia-Marie Blake, Thea Bunting, Kevin O'Dwyer, Laura-Jane Fenney, Jacob Fisher, Elliot Gooch, Dom Hutcheson, Haroun al Jeddal, Kalisha Johnson, Hannah-Faith Marram, Matt Trevorrow and Jacob Young.
The musical Grease is a story of love, friendship and growing up with well known musical numbers and fabulous dance routines.Songs include "You're the One That I Want", "Summer Nights", "We Go Together" and "Look At Me I'm Sandra Dee"It is an adaptation of the film of the same name starring John Travolta and Olivia Newton John.
Sandy is an Australian spending her summer holidays in America where she falls in love with uber-cool Danny Zuko. Their love affair ends when Sandy is despatched back to Australia with her parents, but fate intervenes and Sandy's parents move to America. She ends up at Rydell High - the same school as Danny, but he has a reputation to maintain and can't be seen going out with prim and proper Sandy. Sandy joins the feisty Pink Ladies but can't forget about her summer with Danny. Danny is similarly love struck and after many twists and turns, Sandy transforms herself, leaving behind her good girl persona so that she and Danny are finally united.
THIS TOUR ENDED IS RUN ON 4TH DECEMBER 2021