TOUR OF GREASE THE MUSICAL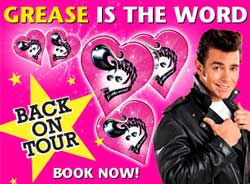 The musical Grease is a story of love, friendship and growing up with well known musical numbers and fabulous dance routines.
Songs include "You're the One That I Want", "Summer Nights", "We Go Together" and "Look At Me I'm Sandra Dee"It is an adaptation of the film of the same name starring John Travolta and Olivia Newton John.
Sandy is an Australian spending her summer holidays in America where she falls in love with uber-cool Danny Zuko. Their love affair ends when Sandy is despatched back to Australia with her parents, but fate intervenes and Sandy's parents move to America.
Sandy ends up at Rydell High - the same school as Danny, but he has a reputation to maintain and can't be seen going out with prim and proper Sandy. Sandy joins the feisty Pink Ladies but can't forget about her summer with Danny. Danny is similarly love struck and after many twists and turns, Sandy transforms herself, leaving behind her good girl persona so that she and Danny are finally united.
Danny Bayne is playing Danny Zuko. He won ITV's Grease is the Word in 2007 and went on to make his West End debut as Danny. His other theatre credits include: Top Cat the Musical, Snow White, On Show at the Royal Albert Hall, Popcorn, Cinderella at Crawley and Corny Collins in the tour of Hairspray.
Carina Gillespie has already played Sandy in the West End production of Grease. She made her professional stage debut as Maria Elena in the musical Buddy and other credits include Bloodbath - The Musical and Princess Tamara in Jack in the Beanstalk in Ipswich.
The cast also includes: Ross William Wild (Kenickie), Kate Somerset How (Rizzo), David O'Reilly (Roger), Laura Wilson (Jan), Richard Vincent (Doody), Lauren Hood (Frenchy), Josh Dever (Sonny), Scarlett Davies (Marty), Darren John (Eugene), Stuart Reid (Vince Fontaine), Emma Kingston Miss Lynch and Emily Hawgood as Cha Cha with other parts played by the ensemble
Grease is not suitable for children under 5 years old
Music and Lyrics for Grease by Jim Jacobs and Warren Casey. Directed and staged by David Gilmore with choreography by Arlene Phillips.
THIS TOUR ENDED ON 30TH DECEMBER 2012