CLUB TROPICANA MUSICAL TOUR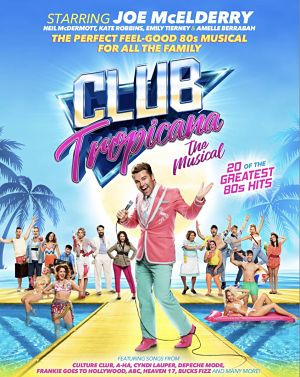 The world premiere of Club Tropicana The Musical, a summer adventure of love in the sun, with a soundtrack of smash-hit pop classics is to begin a 22-week UK tour which kicks off in Bromley next January.
It will star X Factor Winner, Joseph and musical theatre star Joe McElderry as Garry, Neil McDermott (EastEnders, Eugenius!) as Robert, Kate Robbins (The Imitation Game) playing Consuela, Emily Tierney (Eugenius! Wicked) as Christine and former Sugababe star Amelle Berrabah makes her professional stage debut playing Serena.
They will be joined by Karina Hind/Lorraine, Calvin Hudson/ensemble/cover Robert/Olly, Cellen Chugg Jones/Olly, Megan Louch/swing/dance captain, Rebecca Mendoza/Tracey, Alexanda O'Reilly/swing, Joshua Pearson/ensemble/cover Garry,, Rory Phelan/Drew, Nye Rees/Ensemble/Cover Drew/Blaine, Camilla Rowland/ensemble/cover Serena/Christine, Christina Shand/ensemble/cover Tracey/Consuela, Courtney-Brogan Smalley/ensemble/cover Lorraine/Andrea, Tara Verloop/Andrea and Kane Verrall/Blaine.
Welcome to Club Tropicana, the 1980's answer to Love Island. The drinks are free and the whole family are invited to join the ultimate holiday musical, celebrating everything we loved about the 80's, a decade when girls (and boys) just wanted to have fun in a time when hair was big, shoulders were padded and mobile phones were shaped like bricks and weighed a tonne!
When our budding bride and groom get cold feet, they decide to jet off separately to sunnier climes and feel the heat – but little do they know they've checked into the same hotel… the vibrant Club Tropicana! With drinks flowing and tans glowing, will our young lovers decide to finally go through with the wedding? Will hotel inspectors get their way and close the resort, or will the staff save the day?
All will be revealed in hilarious style, to an irresistible soundtrack of some of the most iconic, chart-topping pop anthems of the decade all performed live on stage, including: ABC's The Look of Love, Bucks Fizz's Making Your Mind Up, Frankie Goes to Hollywood's Relax, Tight Fit's Fantasy Island, A-ha's Take On Me, Culture Club's Church of the Poison Mind and Joe Cocker and Jennifer Warnes Up Where We Belong.
Creative team: Produced by Mark Goucher Productions and Gavin Kalin Productions: Book by Michael Gyngell: Directed by Samuel Holmes & Nick Winston: Choreographed by Nick Winston: Set & Costume Design by Diego Pitarch: Lighting Design by Tim Deiling: Sound Design by Ben Harrison: Musical Supervision and Arrangements by Greg Arrowsmith

THIS TOUR ENDED ON 17TH AUGUST 2019