MADAGASCAR THE MUSICAL TOUR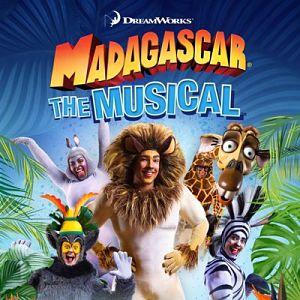 Madagascar the Musical (based on Dreamworks animated motion picture, Madagascar – A Musical Adventure) has just ended a UK tour with dates and casting just announced as it continues on to more venues across the UK before heading overseas.
Matt Terry will continue in the role of Alex the Lion until 6th October and will be performing in Canterbury, Glasgow, Cardiff, Aylesbury, Stoke and Peterborough. The show will continue on to tour to Darlington, Torquay, Barnstaple, Colchester, Southport and Castelbar until the end of November and then head for China, Hong Kong and Malaysia visiting Beijing, Shanghai, Foshan, Hong Kong and Kuala Lumpur.
Additional casting joining the tour in July has been revealed – Posi Morakinyo (Marty), Connor Dyer (Melman), Anna Barnes (Private/Mort), Esme Laudat (Rico/Lynn), Michael Larcombe (Mason/Lars), Monique Ashe-Palmer (Kowaslki), William Beckerleg (Skipper/Maurice), Hannah Victoria (Gloria), Kieran Mortell (King Julian), Niko Kaim and Gareth Moran (off stage swings) will all appear in the show
The Selladoor production is directed by Kirk Jameson with choreography from Fabian Aloise, design by Tom Rogers, lighting by Howard Hudson, sound by Chris Whybrow, musical supervision from Mark Crossland and puppet direction from Emma Brunton.
The show will add new musical numbers to the existing story.With a book by Kevin Del Aguila and original music and lyrics by George Noriega and Joe Someillan, the show is directed by Kirk Jameson.
Join Alex the Lion, Marty the Zebra, Melman the Giraffe, Gloria the hip hip Hippo and the hilarious as they go on the musical adventure of a lifetime escaping from their home in New York's Central Park Zoo to go on an unexpected journey to the madcap world of King Julien's Madagascar.

Filled with outlandish characters, adventure galore and an upbeat score, Madagascar will leave audiences with no choice but to "Move It, Move It!"
THIS TOUR ENDED ITS RUN ON 24TH NOVEMBER 2019



View Dates, Times & Prices
Wed 16 Oct 2019 - Sun 20 Oct 2019
Torquay
Princess Theatre Torquay
Madagascar The Musical