ONCE THE MUSICAL TOUR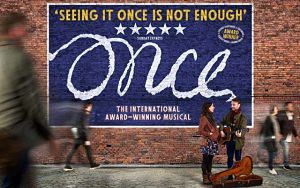 A Broadway and West End hit musical that is a love story with a bittersweet difference, casting a spell over the audience while its two lead characters cast a spell over each other.
Based on a cult 2006 Irish indie feature, originally shot on a micro-budget of just $160,000, it tells the uplifting yet yearning story of a part-time Dublin guitarist busker (who works by day in his dad's Hoover repair shop) who falls unexpectedly in love with a young Czech immigrant fellow musician. As we follow their relationship across five short days, big changes happen to both of them in little ways.
The show has a minimalist set of a bar surrounded by chairs on stage, which can be accessed by the audience during the interval. Cast members never leave the stage and simply play instruments when they are not in a scene.
Once features a book by award-winning Irish playwright & screenwriter Enda Walsh (Penelope, Hunger, The New Electric Ballroom): music and lyrics of Glen Hansard and Markéta Irglová: direction by John Tiffany (Black Watch), movement by Steven Hoggett (Black Watch, American Idiot) and music supervision and orchestrations by Martin Lowe (Mamma Mia!).
The cast will be led by Daniel Healy as Guy and Emma Lucia as Girl, who return to the roles following the production's 2018 run at the New Wolsey Theatre. They will be joined by Dan Bottomley as Billy, Matthew Burns as Eamon, Ellen Chivers as Reza, Rosalind Ford as Ex-Girlfriend, Lloyd Gorman as Svejc, David Heywood as Emcee, Samuel Martin as Bank Manager, Peter Peverley as Da, Susannah Van Den Berg as Baruska and James William-Pattison as Andrej. The cast also includes Emma Fraser, Seán Keany, Hanna Khogali and Conor McFarlane. Listen to Falling Slowly Performed by Daniel Healy and Emma Lucia
Once is directed by Peter Rowe with set and costume design by Libby Watson, musical supervision by Ben Goddard, choreography by Francesca Jaynes, lighting design by Mark Dymock, sound design by James Cook, projection design by Peter Hazelwood and orchestrations by Martin Lowe. Casting is by Debbie O'Brien.
Running time approximately 2 hours 30 minutes including an interval.
Recommended age 10+
Below are the dates and booking links we have so far
To help prevent the spread of coronavirus (COVID-19), we are sorry to confirm that all performances of this tour are cancelled up to 2nd August 2020 when the situation will be reviewed.