DREAMBOATS & PETTICOATS TOUR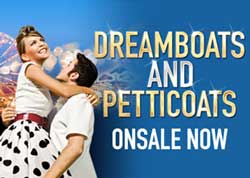 Dreamboats & Petticoats is on tour again. It is written by Laurence Marks and Maurice Gran, who were responsible for Goodnight Sweetheart, Birds of a Feather, The New Statesmen and Shine On Harvey Moon.
Dreamboats & Petticoats features some of the greatest hit songs of the rock 'n' roll era, telling the story of two young musicians in the 1960s who are competing for a national song writing competition (and the heart of Sue!) And when Bobby discovers that shy Laura has hidden talents as a pianist love and rock 'n' roll fame beckons.
The show features classic tracks from artists including Roy Orbison, The Shadows, Eddie Cochran, Billy Fury including Let's Dance, To Know Him Is To Love Him, Shaking All Over, Bobby's Girl, Three Steps To Heaven, Little Town Flirt, Only Sixteen, Runaround Sue, Happy Birthday Sweet 16, Let It Be Me, Great Pretender, C'mon Everybody and Let's Twist Again.
The touring cast includes Roger Martin (Phil / Older Bobby), Matthew Colthart (Norman), Greg Fossard (Bobby), Louise Olley (Sue), Will Finlason (Ray), Hannah Boyce (Laura), Laura Sillett (Donna), Damien Walsh (Barry), David Jay Douglas (Colin), Sheridan Lloyd (Andy), Robert Dalton (Richard), Mike Lloyd (Frank/Slugger), David Luke (Eric), Chloe Edwards-Wood (Daisy), Victoria Quigley (Babs), Michael Park (Jeremy), Josh Tye (Derek) and Alicia Marsden (understudy/ASM).
There is also a sequel Dreamboats and Miniskirts which tells what happened to Bobby and Laura and Norman and Sue and is due to tour later this year.
THIS TOUR ENDED ON 21ST JUNE 2014