DREAMBOATS & PETTICOATS TOUR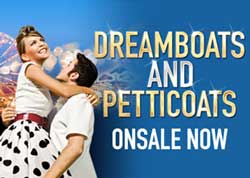 Dreamboats & Petticoats is to tour again to mark its 10th anniversary.It is written by Laurence Marks and Maurice Gran, who were responsible for Goodnight Sweetheart, Birds of a Feather, The New Statesmen and Shine On Harvey Moon.
Dreamboats & Petticoats features some of the greatest hit songs of the rock 'n' roll era, telling the story of two young musicians in the 1960s who are competing for a national song writing competition (and the heart of Sue!) And when Bobby discovers that shy Laura has hidden talents as a pianist love and rock 'n' roll fame beckons.
The show features classic tracks from artists including Roy Orbison, The Shadows, Eddie Cochran, Billy Fury including Let's Dance, To Know Him Is To Love Him, Shaking All Over, Bobby's Girl, Three Steps To Heaven, Little Town Flirt, Only Sixteen, Runaround Sue, Happy Birthday Sweet 16, Let It Be Me, Great Pretender, C'mon Everybody and Let's Twist Again.
The cast has just been announced with Jimmy Johnston as Phil/Older Bobby: Alistair Higgins as Bobby: Alistair Hill as Norman: Elizabeth Carter as Laura: Laura Darton as Sue: Gracie Johnson as Donna:David Luke as Ray: Henry Alexander as Colin: Jay Osborne as Richard: Rob Gathercole as Jeremy: Lauren Chinery as Babs: Josh Tye as Derek: Sheridan Lloyd as Andy: Billy Stookes as Barry: Mike Lloyd as Frank/Slugger: Chloe Edwards-Woods as Daisy/Brenda: Alan Howell as Eric and Stephanie Hackett as ASM/Swing
THIS TOUR ENDED ON 7TH OCTOBER 2017