ANNIE THE MUSICAL TOUR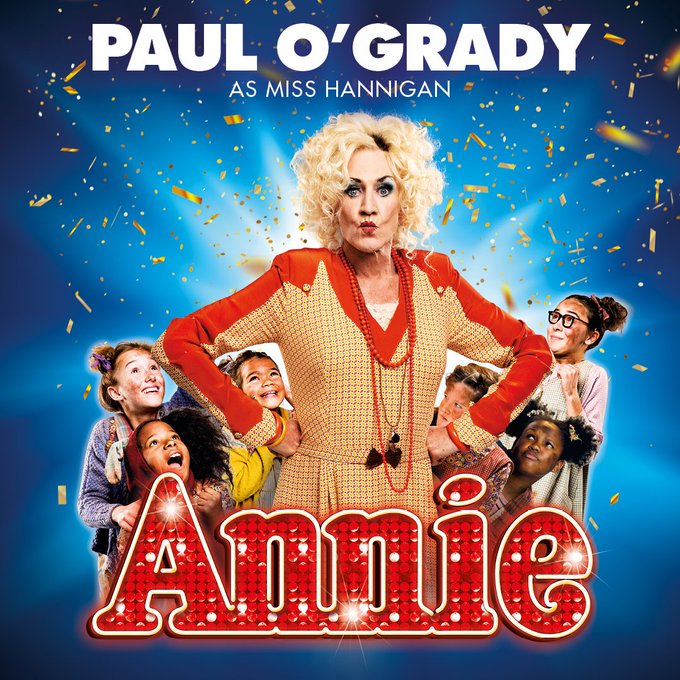 The musical ANNIE will embark on a UK tour opening at Curve, Leicester on Saturday 25 February 2023. This production enjoyed sell-out UK and Ireland tours throughout 2015/16 and in 2019, as well as extended seasons in both the West End and Toronto. Paul O´Grady will play Miss Hannigan at Newcastle, Edinburgh, Southampton, Liverpool, Dublin and Bristol while Strictly Come Dancing judge Craig Revel Horwood will take on the role in Leicester, Birmingham, Oxford, Dartford, Stoke, Llandudno, Aberdeen, Glasgow, Nottingham, Woking, Cardiff, Bradford, Southend, Bromley and Norwich with Scottish BAFTA winner Elaine C Smith and Jodie Prenger (Llandudno and Stoke) are also starring as 'Miss Hannigan' (Aberdeen and Glasgow) at certain venues. Alongside them will be Alex Bourne as Oliver Warbucks, Paul French as Rooster, Amelia Adams as Grace Farrell, and Billie-Kay as Lily St. Regis. The title role of Annie is shared by Zoe Akinyosade, Harlie Barthram and Poppy Cunningham. They are joined by three teams of young performers including Marlie Love, Kyla Semper, Caitlin Cole, Lola Green, Gracie Hodson-Prior, Jasmine O'Riordan, Isobel Stanish, Jessica Rogers, Georgie Fisher. Chanai Owusu-Ansah, Ellicia Simmondwood and Chloe Raphael who play the residents of Miss Hannigan's orphanage.
Completing the cast will be Emily Barnett-Salter, Alistair Beattie, David Burrows, Sergi Ibanez, Rosalind James, Belle Kizzy Green, Ellie May-Wilson, Martin McCarthy, Phoebe Roberts, Lukin Simmonds, Matthew Sweet, Dawn Williams, and Tommy Wade-Smith
Set in 1930s New York during The Great Depression, brave young Annie is forced to live a life of misery and torment at Miss Hannigan's orphanage. Determined to find her real parents, her luck changes when she is chosen to spend Christmas at the residence of famous billionaire, Oliver Warbucks. Spiteful Miss Hannigan has other ideas and hatches a plan to spoil Annie's search… With its award-winning book and score, this stunning production includes the unforgettable songs 'It's the Hard Knock Life', 'Easy Street', 'I Don't Need Anything But You' and 'Tomorrow'.
ANNIE is produced by Michael Harrison and David Ian with Music by Charles Strouse, Lyrics by Martin Charnin and a Book by Thomas Meehan. It is directed by Curve's Artistic Director Nikolai Foster with set and costume design by Colin Richmond, choreography by Nick Winston, lighting by Ben Cracknell and sound design by Richard Brooker.
Tour schedule and on sale details are below with further dates and more star casting to be announced soon.
| | | |
| --- | --- | --- |
| EDINBURGH Playhouse %% | 21-25 March | |
| BIRMINGHAM Alexandra $$ | 3-15 April | |
| OXFORD New $$ | 17-22 April | |
| SOUTHAMPTON Mayflower | 24-29 April %% | |
| DARTFORD Orchard $$ | 1-6 May | |
| STOKE Regent** | 8-13 May | |
| LLANDUDNO Venue Cym** | 15-20 May | |
| ABERDEEN His Majesty' s && | 23-27 May | |
| GLASGOW King's && | 29 May-3 June | |
| LIVERPOOL Empire %% | 5-10 June | |
| NOTTINGHAM Concert Hall $$ | 12-17 June | Buy tickets |
| WOKING New Victoria $$ | 19-24-June | |
| CARDIFF WMC $$ | 3-8 July | |
| BRADFORD Alhambra $$ | 10-15 July | |
| SOUTHEND Cliffs $$ | 17-22 July | |
| BROMLEY Churchill $$ | 24-29 July | |
| NORWICH Theatre Royal $$ | 31 July-5 August | |
| MILTON KEYNES $$ | 7-12 August | |
| PLYMOUTH Theatre Royal $$ | 14-19 August | Buy tickets |
| DUBLIN Bord Gais Energy $$ & %% | 22 August-3 September | |
| BLACKPOOL Opera House $$ | 6-9 September | |
| MANCHESTER Opera House $$ | 18-30 September | |
| SUNDERLAND Empire $$ | 2-7 October | |
| WOLVERHAMPTON Grand $$ | 10-14 October | |
| HULL New $$ | 23-28 October | |
| BELFAST GOH $$ | 31 Oct-4 Nov | |
| WIMBLEDON New %% | 7-11 November | |
| CRAWLEY Hawth $$ | 13-18 November | |
| BRISTOL Hippodrome %% | 20-25 November | |
%% Paul O´Grady will play Miss Hannigan
$$ Craig Revel Horwood will play Miss Hannigan
**Jodie Prenger will play Miss Hannigan
&& Elaine C Smith will play Miss Hannigan