GARY BARLOW - A DIFFERENT STAGE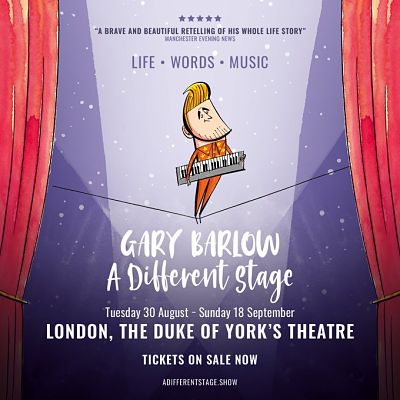 Acclaimed singer, songwriter, composer and producer, Gary Barlow will be live at London's Duke of York´s Theatre for a limited run from 30th August of this year with A Different Stage - his theatrical one-man stage show whihc recounts the ups and downs of the Take That singer's life to the backdrop of his hits.
He first began developing more than a year ago with long-time friend and collaborator Tim Firth (Calendar Girls), and says it is touchingly 'actually a celebration of my dad, Colin Barlow', who died in 2009 when he was just aged 7.
It is directed by Firth, with design by Es Devlin, lighting by Bruno Poet and sound design by Gareth Tucker.
Gary narrates the journey of his life alongside the music from his incredible discography. In a project unlike anything he's ever done before, Gary will take the audience behind the curtain, with nothing off limits in this special performance. Gary stressed that although he appears in the show, 'I'm not an actor in this'. Instead, he is simply 'authentically' recounting some of the situations he has found himself in over the years — such as when his career collapsed and he found himself, at 29, without a record deal.
"Now I've done shows where it has just been me and a keyboard. I've done shows where I sit and talk to people. I've done shows where I've performed as part of a group.
But this one, well, it's like all of those, but none of them. When I walk out this time, well, it's going to be a very different stage altogether."
Buy tickets for Gary Barlow - a Different Stage which is running at London`s Duke of York`s Theatre from 30th August to 18th September 2022
THIS PRODUCTION ENDED ITS LONDON RUN ON 18TH SEPTEMBER 2022